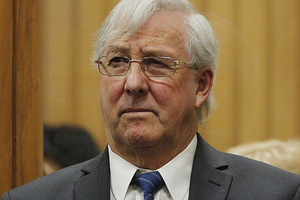 There were emotional scenes outside the High Court at Rotorua this afternoon as a family joined together and sang, finally having received closure over the murder of a loved one nearly 34 years ago.
The family of Rodney Tahu were seen to cry and lean on one another as Menzies Reginald John Hallett was found guilty of his murder at a Turangi service station in 1979.
It came at the end of a week and a half long trial that had heard how Hallett, now 72, had gunned Mr Tahu down in a "flash point" of rage but had lived free for the last three decades.
Outside court, tearful whanau of Mr Tahu hugged Detective Inspector Mark Loper, who led the cold case after it was re-opened two and a half years ago.
Law changes meant Hallett's former wife could give crucial evidence against him - without it, the original murder case against him had faltered.
"I think let's for a moment go back to 1979... and I think if you'd asked anybody then, you would've said he was a good bloke, he was a man who worked hard, who was well respected in his community," an emotional family spokesman Colin Hair said of Mr Tahu following the verdict.
"He loved his family and his wife and his two daughters.
"Nobody could have known on that particular night when he went about his normal day to day business that somebody he'd never met - a perfect stranger - would turn up with a loaded firearm and would shoot him and the family were naturally devastated at that point.. and were further devastated when an anomaly in the law at that stage meant he walked free until now.. some 33, nearly 34 years ago.
"You have to understand that the events of the last 13 or 14 months since the arrest, the trial, the media coverage and everything has re-opened those old wounds and to some extent has rubbed them a little bit more over the last week or so but I think now we are in a position where we can put some closure to this... and we can all move on."
"I think the hardest part is we've always known who was responsible for this, as I said, it was an anomaly in the law that allowed it to go by, and I've got to say, on behalf of the whole family, a huge thanks to the police for their tenacious work.. and not just the work the current team have done, but the original outstanding work that was done."
Mr Loper acknowledged how hard it had been for the family.
"All files, especially homicide files, are reviewed regularly, and this was one of those cases," he said.
"So you know, through time, people [who are involved in such cases] might think that they may be free to reign and have stopped looking over their shoulder, but this was a classic case where sometimes the police will come and tap you on the shoulder."
Yesterday Crown prosecutor Fletcher Pilditch said during his closing submissions that the 72-year-old had retracted an earlier admission that he had killed the father of two.
The stunning revelation came a day after three separate witnesses - Hallett's ex-wife Susan Sharpe, a flatmate of his from the mid-1980s and a woman he briefly dated later that decade - all gave evidence stating that the former real estate agent and musician admitted to them that he had killed Mr Tahu.
The defence called no witnesses nor did Hallett give any testimony.
Mr Mabey said Hallet was innocent until proven guilty, if the jury returned a verdict "based on fairness and objectivity then no one can complain about that".
Earlier, the Crown prosecutor said it was Hallett's right to change his mind. Mr Pilditch said things happened in trial and things changed "and there's nothing particularly remarkable about that".
He said there were just two issues for the jury to consider - whether Hallett killed Mr Tahu, and if so, did he have murderous intent.
The Crown said Hallett was in a belligerent mood after receiving a letter from his wife.
The court heard how there was some dialogue that Hallett might get custody of their children, but Ms Sharpe refused. His oldest daughter also said she did not want to stay with him.
He arrived at the Turangi Shell service station just after 1am after hearing a rattling noise in his car and demanded some oil from Mr Tahu, who had just closed up.
After calling Mr Tahu a "black bastard" when he refused to sell him some oil, Hallett is alleged to have used his .22 revolver to shoot the 31-year-old twice.
"As the accused looked down on Mr Tahu injured on the ground, he took aim for a third and final time with a certain knowledge that pulling the trigger would end his life," said Mr Pilditch.
"And Mr Hallett pulled the trigger."
"The Crown's case is that he is guilty of nothing short of murder."
Hallett will be sentenced on July 12.