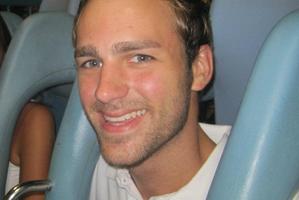 The father of a British man killed in the Fox Glacier tragedy says the Government has failed to improve the safety of adventure tourism and New Zealand remains "more dangerous than it should be".
Chris Coker says his and eight other families had been "absolutely annihilated" as a result of the September 2010 crash that killed four international tourists, four skydiving masters and the pilot.
Coroner Richard McElrea, in findings released today, said it was unlikely the cause of the crash would ever be "fully understood" and he made recommendations for a passenger limit and mandatory restraints on certain aircraft.
Mr Coker, whose 24-year-old son Brad was on a gap-year trip around the world, said he expected more recommendations from the inquest.
The families of the tourists killed, in a public letter released today, have pleaded for Prime Minister John Key to take action to make the country "a safe place to visit".
"We did expect more from it, to be quite honest. But an inquest will not bring back our children, the people who have died," Mr Coker said.
"We're still concerned that New Zealand's not quite as safe as it ought to be."
The families have called for the Government to throw more resources at monitoring safety standards in adventure tourism, introduce laws to make companies liable for negligence and privatise the insurance system, which they believe will encourage better self-regulation of safety standards.
Mr Coker said the fact nobody had been held accountable for the Fox Glacier tragedy showed a lack of intent to improve safety in the industry.
He said until significant changes were made "New Zealand will remain more dangerous than it should be''.
"And I feel that ... people should think twice about going to New Zealand," he said.
Mr Coker said holding a person or company accountable for the tragedy "isn't about money".
"This isn't about money, this is about doing the right thing," Mr Coker said.
"If you don't hold anyone to account how on earth are you going to bring about a better level of safety? The answer is you won't."
Mr Coker said mandatory drug testing should be enforced for adventure tourism operators. He said the Government had failed to act after cannabis was linked to people involved in both the Fox Glacier and Carterton balloon tragedies, which together claimed 20 lives.
The Government had considered mandatory testing but put the onus back on operators to ensure they were complying with strict regulations.
"This is a tough thing to deal with but when people are responsible for other people's lives ... there has to be mandatory drug testing," Mr Coker said.
"It's just not excusable that this can be left to companies to self-administer because it's just not going to happen.
"Really the only answer is no, [the Government] definitely hasn't done enough."
Mr Coker said he and the other families would continue to lobby the Government for action.
"We all owe it to those who died to try and change things."
Read more: Tourists' plane doomed at take-off
- APNZ