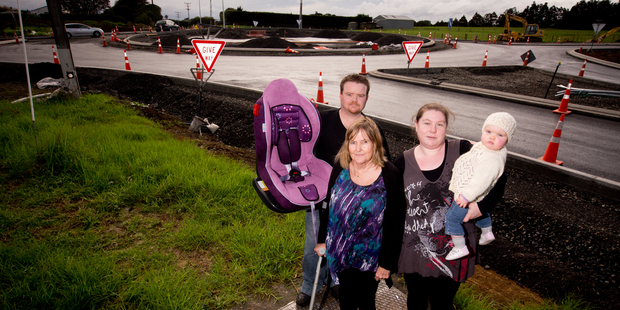 Beverley Potts feared the worst for her little grand-daughter while waiting in agony to be cut free of her wrecked car at a notorious South Auckland crossroad.
"I just remember asking people around me what happened to Kaytlyn because she wasn't crying," she said of the year-old infant.
She had last seen her fast asleep and strapped tightly into a rear seat child restraint as she was driving home to Waiuku from Manukau in January.
But although Ms Potts, 59, was seriously injured - her bones broken from neck to ankle - after her car was struck side-on by a vehicle which failed to give way at the intersection of Glenbrook and Kingseat Rds, the child survived unscathed apart from superficial bruising from her seat straps.
As fire and ambulance staff toiled to cut Ms Potts out of the car, a passing motorist who had stopped with his wife to provide assistance held up the child to reassure her.
"He held her up to me and told me his wife was a nurse, so I thought: 'she'll know what to do'."
Counties-Manukau police serious crash investigator Constable Bruce Wilson said he had little doubt Kaytlyn, now 16 months, would have been seriously injured or killed had it not been for the car seat.
Ms Potts is still recovering from her injuries but she and Kaytlyn's parents, Anna and Graham Potts of Hobsonville, yesterday took the little girl and the now decommissioned seat back to the crash scene - where Auckland Transport is building a $1.3 million roundabout to force traffic to slow down - to illustrate the importance of keeping children secure whenever they are in vehicles.
Today's start of Road Safety Week comes amid alarming findings from the council transport body about a high rate of incorrectly fitted car seats, and follows at least 29 crashes at or near the Kingseat intersection since 2007 - five of them serious and one killing two people.
Although 89 per cent of children travelling in 318 vehicles through check-point "clinics" - which the police have run through South Auckland in conjunction with the organisation and Plunket since January 1 - were in car seats, only 3 per cent were properly strapped into restraints which had been fitted correctly.
Mr Wilson said the Potts family did everything right by belting Kaytlyn in properly to a high-quality seat in the left-hand rear of her grandmother's car.
As a former Plunket branch president, Anna Potts acknowledged some car seats could be confusing to install, but said the operation should be simple enough for adults taking time to follow manufacturers' instructions.
"I think a lot of people think they know what to do, and don't follow the instructions," Kaytlyn's mother said.
"It doesn't matter how much a car seat costs you, it's going to save the life of your child.
"What's more important, something you want to buy that week, or your child's life," she said.
Safekids director Ann Weaver said it was important for caregivers, given a multiplicity of standards for child restraints and the wide range of vehicles in the New Zealand fleet, to seek advice from Plunket or elsewhere on the correct ways to install them.
"It is not just about buying any seat - you have got to have the right seat for the right child for the right car."
The numbers
82 deaths on the road so far this year
95 deaths for the same period last year
33 pedestrians killed last year
987 pedestrians injured after being hit by a vehicle
3 per cent - children properly strapped into correctly fitted car seats
Road Safety Week
(Today to May 12)
Organised by safety charity Brake and involving more than 300 schools, kindergartens, companies and communities.