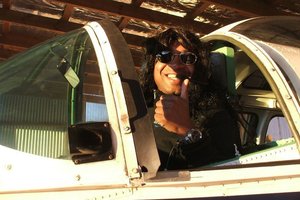 The former partner of Chami Senadhira has rejected the coroner's finding that a pilot-related factor may have been a cause of the crash which claimed his and eight other lives.
Tabitha Coyle, the mother of Mr Senadhira's 8-year-old daughter Madison, last night said there was no way pilot error was a contributor to the crash.
"I don't believe that. Not at all. There are so many people that you could talk to that would argue black and blue with anybody that that is not the case.
"He was such a good pilot."
Ms Coyle said she agreed with coroner Richard McElrea's conclusion that it was unlikely the cause of the crash would ever be fully understood.
Mr Senadhira's wife Nina said she did not want to comment on the report.
Robyn Jacobs, the widow of Rod Miller, who was a director of Skydive NZ, which operated the flight, said she hoped the coroner's findings would clear her husband's name.
Ms Jacobs said the coroner's findings dismissed an earlier "inadequate" Transport Accident Investigation Commission report which found the plane did not have any technical defects, and excess weight and a load shift had caused the crash.
"Something unusual occurred at take-off and the coroner does not point towards weight balance being the sole factor of the accident. The coroner said it was unlikely the cause of the crash would ever be fully understood. Something unusual happened on that fateful flight. End of story" she said.
"Hopefully this will clear Rod's name because he was an extremely safe and well-respected operator."
She said the findings provided the family with some closure, but "it'll never be over for my boys and myself".
The couple had two children.
Sandra Oddie, the former wife of skydiving instructor Chris McDonald, 62, and the mother of his sons Scott, 21, and Tommy, 18, said she felt what exactly happened that day would probably never be known.
Mr McDonald, a vet, had also worked in the skydiving industry for more than 30 years.
Ms Oddie said the past few years had been extremely hard.
"It has been dreadful. Absolutely dreadful. [But the coroner's report] will bring closure to us."
- APNZ