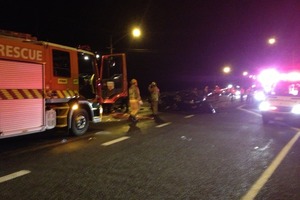 The drivers of two cars were killed after one is believed to have drifted across the centre line and collided with the second vehicle head-on last night.
The deaths were among three road fatalities at the weekend.
A passenger from one vehicle, a 51-year-old woman, remains in a serious condition in hospital.
She was airlifted to Palmerston North after the crash on State Highway 1 at Manakau, south of Levin, about 10.40pm.
The male drivers of two cars, believed to be aged 26 and 55, were from Palmerston North and Levin respectively. The injured woman was a passenger in the car travelling north.
Anne McCabe, who lives about 150m from the crash scene, lost her two teenage daughters to a fatal crash on the same road six years ago.
She said the local community would rally around the families of those involved in last night's crash.
"You always think of the mothers, the fathers, the aunties, the uncles, the daughters the sons,'' Ms McCabe said.
"Those who are going to be doing the journey that I'm still going to be doing for the rest of my life.
"It's all the other people who are left behind unfortunately.''
Mrs McCabe's daughters, 18-year-old Lucy Simon and 15-year-old Isabelle Simon, were killed in 2007 when their car slid on the Manakau Bridge on SH1 and slammed into an oncoming truck.
Meanwhile, a 50-year-old man was killed in a crash in Otago yesterday afternoon.
Peter Arnold McCone was thrown from his four-wheel-drive after losing control of the vehicle on Maheno-Kakanui Rd at Maheno about 5pm.
One passenger was taken to Oamaru Hospital for observation, but had no serious injuries.
- Additional reporting Oamaru Mail
- APNZ