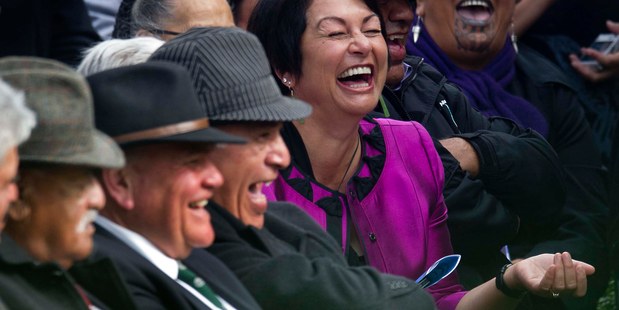 Hekia Parata is a National Party minister but, at Parekura Horomia's funeral yesterday, her husband Sir Wira Gardiner dobbed her in for voting for her Labour cousin.
Sir Wira Gardiner was one of Horomia's closest friends and said his persuasive skills were such that, despite their different politics, Gardiner had voted for Labour's Horomia in 1999. To delighted laughter, Sir Wira proceeded to dob Parata in for doing the same, saying, "and I think someone else in my household also voted for him".
That was the year Horomia first took the Ikaroa-Rawhiti seat by a slim margin from NZ First.
Parata confirmed blood had run thicker than politics in that one election - but there was no repeat. By 2002 she was a National candidate in the Wellington Central electorate.
Sir Wira also recalled Horomia's dieting efforts, saying at such times Horomia would always refuse a dinner invitation if Parata was home, because he knew Parata would insist he stuck to his diet.
Sir Wira was not the only speaker with different political leanings. Horomia's cousin Rawiri Ruru transferred his loyalty from Labour to the Maori Party after the Foreshore and Seabed Act in 2004 and spent the next three elections campaigning for the Maori Party in Horomia's electorate.
"I tried three times, in three different elections, to help depose my cousin Parekura. It never worked ... because he's the people's person and, try as we might, we from the Maori Party found it very hard to unseat him. But despite all that, my friend still loved me and I still love him."