It pays to shop around, even when you're just after cash for your holidays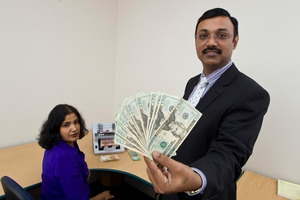 Kiwi travellers scan the internet for cheap flights but appear happy to pay over the odds for foreign currency.
Foreign-exchange outlets at Auckland International Airport charge just less than 6 per cent of the value of a transaction in commission, sometimes with a card-establishment fee on top. And even the big banks don't offer top dollar.
With $200 to convert into US dollars this week, we could have got anything from US$156 at Travelex Auckland Airport to US$168 at NZ Change on Queen St in Auckland's CBD. The best deal though was online through Travelex, $168.40 if ordered ahead of time and picked up at the airport.
Among the big banks, Westpac offered the most money for our $200 - US$162.88 - and ANZ and ASB the least - US$156.84.
Westpac was the best of the big banks for those with small amounts to convert because it charged the greater of $6 or 1 per cent of the amount traded, not 1 per cent or $10 as ANZ, ASB and BNZ do.
Massey University Centre for Banking Studies researcher Claire Matthews said fees varied because some dealers built in a higher margin between their buy and sell rates.
Pravin Kumar, of foreign-exchange firm Lotus FX, said that was what his organisation did. "We buy currencies from someone else and then sell it to you, but there is a little bit of money to make in the middle."
Because Lotus would buy money one day and sell it the next, currency-exchange movements could make or lose the business money. Lotus offered US$165 for our $200. On the day we tested the outlets, the NZ dollar was officially worth US86c. The outlets quoted sell prices ranging from US82.5c to US84c, and buy rates that were about US3c to US7c higher.
Commentator Bernard Hickey said most people did not know the currency rate, nor did they realise the premium they would pay.
"People seem to spend 15 minutes browsing at The Warehouse to save a buck but they don't think twice about taking out US$500 at the airport and paying $20 or $30," Hickey said.
Cards loaded with multiple foreign currencies were becoming popular.
But Charise Schwalger said she had been caught out by such a card.
She was told that a Travelex cash passport card would attract no ATM fees. "When I arrived in Australia, I was told that Travelex was a different company in Australia and they would charge fees to get my money back. The fine print clearly states that ATM fees may be charged in other countries, but Travelex will not charge fees on top."
She then tried to withdraw her money but was at an ATM that would only give $50 notes. "I had $46 left that I could not access." When she returned to New Zealand, she was to be charged $10 to retrieve that money.
A Travelex spokeswoman said if she used the card in New Zealand, Schwalger would be charged a 5.95 per cent conversion fee plus the credit-card company's interchange fee.