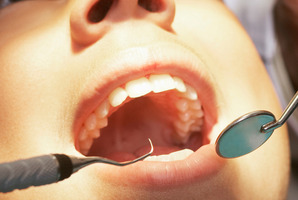 Health authorities are urging anyone who has had dental treatment from Mangere man Sione Heinave Vailea to contact a hospital as soon as possible.
Counties Manukau District Health Board said Mr Vailea was not registered in New Zealand as a dentist or dental therapist and was not permitted to perform dental surgery or to provide medication to patients.
The DHB's spokesman Clive Ross said Mr Vailea was arrested yesterday and was facing 12 charges in relation to practising without certification and issuing prescriptions.
Mr Vailea had undertaken some dental therapy training but was not registered as a dental therapist and therefore not a qualified dentist, he said.
While it was not known how long Mr Vailea had allegedly been performing dental work, investigations by police and the DHB had revealed allegations that he had been treating patients for many years in his home for a variety of dental treatments including fillings, extractions, denture work, and gold inlays.
It was also alleged that using a prescription pad in someone else's name, he has prescribed antibiotics and pain killers.
Dr Ross said he was concerned that a large number of people might have been exposed to blood-borne diseases such as Hepatitis C or B, or other cross-contamination of infection risks.
They could also have inadequate or incorrect dental work, which could cause injury and infections, he said.
However, he had no idea how many people might have health problems stemming from the dental work.
Mr Vailea's patients were probably solely of Tongan descent, he said.
Dr Ross urged anybody treated by Mr Vailea to contact the Pacific Health Unit at Middlemore Hospital.
"We are very concerned that incorrect dental work and potential exposure to cross-contamination of infection could lead to long-term teeth, gum and health problems.
"It is very important that anybody who has been treated by this man come forward for advice," he said.
He said the hospital would perform any blood or dental checks that needed to be done.
Mr Vailea's alleged offending came to light when a patient unhappy with his dental work complained to a person who had dentistry knowledge. That person urged the patient to go to police, Dr Ross said.
"That's what opened the box and then they did some more investigating."
Mr Vailea will appear in court later in the month.
People who have been treated by Mr Vailea can call the Middlemore Hospital Pacific Health Unit on 09 276 0044 ext 9006 between 8am and 4.30pm.
* Have you been a patient of Sione Vailea? Please send your story, photos or video to John Weekes.
- APNZ