Little farming valley steps up to host nation's leaders at loved politician's tangi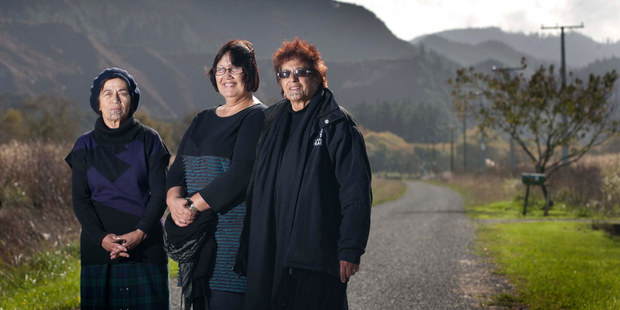 Before this week, barely anyone outside of the east coast knew where Mangatuna was, the little farming valley on State Highway 35.
But Parekura Horomia's death at his farm in the whanau home he grew up in has shone a little light on this humble community.
It's a place that shaped every part of him, relatives Josie Keelan, 60, Titihuia Maurirere-Kutia, 74, and Essie Keelan, 72, told the Weekend Herald this week.
Josie grew up with him and went to school at Mangatuna Native School.
She well remembers the bus that Mr Horomia spoke of in his maiden parliamentary speech, the one that used to pick up Pakeha children but drive past Maori pupils who had to walk 5km a day to school.
He used to dream of being picked up by that bus. But Ms Keelan also remembers more often than not he was late to school because he had to milk the cows.
He was a cheeky and merciless tease. She blames the only time she was strapped on Parekura.
"He was teasing another whanaunga of ours, Haua. He had Haua's lunch, he called out to me and threw it to me and I caught it and we were throwing the lunches back and forward and so Haua reported us to the principal. That was it, got the strap from the principal."
Mangatuna was named for a huge feast of eels. It's on a flood plain, and in the warmer months the fields around Mr Horomia's farm are covered in corn.
Besides the school, which is now a kura kaupapa, the other focal point is Hinemauria Marae.
Mr Horomia was brought up by his grandparents Jane and Poneke Waikare, known as Mum-Jane and Duke.
Mrs Maurirere-Kutia said their influence was simple and lasting. "They were lovely people, she was very strict and they were all hardworking."
Essie Keelan said it was an era which valued community and it's an ethos that the Ikaroa-Rawhiti MP carried with him throughout his life.
It's why he placed such importance on going to every tangi and birthday celebration that he could - not just in Tolaga Bay but from Te Araroa south through his electorate.
But community also meant buying groceries for those families he knew who were struggling, or stopping to give those who looked a bit down and out $20 for smokes and a pie.
Mrs Keelan travelled with him on the "crazy trail" each election, trying to make sure he looked after himself. It was a vain effort, as he had a deep love of soft drinks and fish and chips.
When he was at home, it was private time, she said. When he was dying, people respected his wish for privacy - for a man who'd given so much publicly, he'd earned it.
Yesterday, laughter rang out when Prime Minister John Key came to Hauiti Marae to pay his respects.
He told the crowd he was there to farewell a friend and a great New Zealander but said he had found common cause with Mr Horomia's oratory skills as he, too, had been accused of wonky English.
"I was walking along the corridor and Parekura came up to me and he looked at me and he said, 'Ah, I see you're making up words'.
"And I said, 'Yeah, and I didn't know I was.' He went: 'Me neither.' And he laughed to himself and wandered off."
Next week, Parliament would mark Mr Horomia's passing, the PM said. MPs would remember a man who could fight and struggle for the issues he believed in, but do it in a way where he didn't make enemies.
"Not every parliamentarian can do that, but Parekura could."