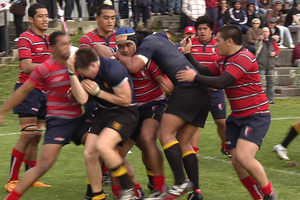 The schoolboy rugby brawl between Kelston Boys' High and Auckland Grammar was hell. But now, the Kelston First XV have found God.
For 16 unpaid hours every week, Enroy Talamahina dedicates himself to improving the spiritual health of the members of the school's First XV.
These are boys who aren't short on talent - under Talamahina's watch they picked up the Sanix World Rugby Youth Invitational Tournament last year to add to the Moascar Cup, Condor Sevens title and the Top 4 premier New Zealand school rugby prize.
But Talamahina says while there are coaches to help them with their ball skills and teachers to help them in class, there isn't anyone supporting them as they go through life and deal with the challenges of growing up.
Talamahina is the only sports chaplain of this kind in New Zealand, he says. He got the idea in the United States, talking to the chaplain of the Denver Broncos. "I believe it's my calling and I've never looked back. I do believe they appreciate it."
For more than eight years, the Herald on Sunday has reported bad behaviour on Saturday sports fields, courts and sidelines. The schoolboy rugby brawl in 2009 made the front page. Four Auckland Grammar and five Kelston Boys' players were banned after scores of spectators waded into an on-field brawl between the boys.
Now, the Herald on Sunday is launching a campaign called Sideline Champs to support good behaviour on our nation's sports fields and courts this winter. We will work with winter sports codes to support and build on their fair play work.
The goal of Sideline Champs is to inspire and educate sports participants and supporters to celebrate good play and hard play, setting an example of sporting behaviour that encourages or shames bad sports into improving their behaviour.
And it doesn't take much to make a difference, as Talamahina can testify.
The voluntary chaplain role was his idea, but the school must have welcomed it. He started three years ago, just after the infamous brawl involving up to 100 students from the two schools. The fight lasted five minutes and one school boy was knocked out. "Everyone brings the fight up," Talamahina says, "But it was nothing to do with that at all."
It took a year to gain the boys' trust, he says. That was not helped by the fact that some of the players have been quite transient - moving on after not long in the school. "Some have gone on to huge honours. One turned his life around and is playing in Japan now but it was just about spending time with him and encouraging him."
The team has been in Ahipara this week, running up and down sand dunes as part of a holiday boot camp.
Talamahina is with them, on holiday from his full-time job as a shoemaker. "I keep the spiritual side going, and keep them heading in the right direction. I give them hope and remind then there's life after rugby. They're good boys, they'll be good men. We've just got to give them a sense of purpose and some balance in life."
For some of them, just knowing that someone is watching out for them makes a huge difference. "Just being around them inspires them, as well. They know there's someone who cares about them."
That is a role that can be played by a chaplain, a coach, a schoolteacher - or by the friends and family on the sidelines.