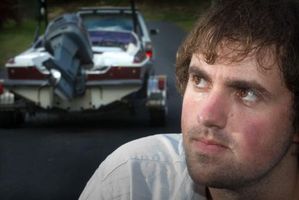 Heading to the Monster Truck Show in Napier Shane McKay couldn't believe his eyes as he saw his beloved stolen speed boat being towed in the opposite direction.
The Okawa Bay boat owner said the boat named Jessie James, which was once a well known X Games wakeboarding boat, had been pilfered from their front yard on February 4 as partner Krystal Honour picked up their children from kindergarten and he was at work.
He thought that was the last he'd see of the Bayline boat he had owned for three years, after police and the insurance company told him it had probably been stripped. He put up flyers in shops in the hope someone knew where the boat was.
Other homes in their street had also been targeted by thieves, Mr McKay said.
"They all told me it was stripped and probably in pieces and I might be lucky to get the outboard motor back."
But on April 6, as the family headed to Napier, they turned a corner at the Bayview end of the Thermal Explorer Highway and a four-wheel drive, towing a boat exactly like the Jessie James caught his eye as it came around a blind bend heading north towards Taupo, he said.
"I couldn't believe my eyes ... I said there's my boat ... I spun around and pulled in behind it. It was pretty surreal."
Although much of the boat had been stripped with most of the wakeboard poles pulled off and all stickers including the name removed, he recognised it as the Jessie James from a small sticker on the only remaining wakeboard pole.
Calling police from a cellphone, the family continued to follow the vehicle towards Taupo but the driver realised they were being tailed and tried to lose them, Mr McKay said.
"We got in front of them to get their number plate and then spun around to get back behind them. He tried to pull away and we lost sight of him for a few minutes but a police car overtook us and we came around a corner to find [police] had pulled them over."
Police told him the middle aged couple driving an allegedly stolen vehicle with false Ford Falcon number plates on it, were heading to Ngongotaha to drop the boat off, he said.
"We just hooked her up to our car and brought her home ... it was pretty tinnie to get her back."
Insurance paid $11,000 to Mr McKay for the boat and he is now buying it back for $5000.
He can't believe the damage the thieves have done to it.
"I couldn't get over it. They have cracked her hull ... They have pulled all the stickers off and wrecked the inside. I'm planning to do her up. I'm just stoked to have her back," he said. Meanwhile, a 38-year-old Palmerston North man has been charged with theft and is due to reappear in the Palmerston North District Court on May 9.
For more articles from this region, go to Rotorua Daily Post