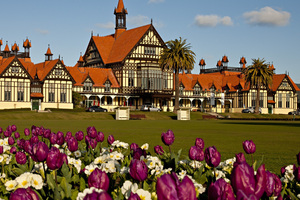 Rotorua has bucked a national trend to post the city's best visitor numbers for accommodation providers since records began.
Large events in the city in February included Te Matatini - the national kapa haka championships, the inaugural Rotorua Bike Festival, the Raggamuffin music festival and the Australasia IPSC Handgun Championships.
Destination Rotorua Marketing general manager Oscar Nathan said those events were the catalyst for the record-setting month.
February visitor nights in Rotorua rose 19.2 per cent on February 2012 to 80,500 compared with a national decrease of 4 per cent.
The figures were released in Statistics New Zealand's February 2013 Commercial Accommodation Monitor earlier this month.
In contrast to the national figures, the Central North Island had good growth in domestic visitor nights during February.
"Rotorua's whopping 19.2 per cent boost was the key contributor to the region's growth, but the Bay of Plenty (up 7.1 per cent), Taupo (up 1.9 per cent) and Ruapehu (up 2.6 per cent) also benefited from more domestic visitor nights," Mr Nathan said.
"We are very encouraged by the success of these events and as a result we have a renewed focus on attracting more high-quality national and international events to our city in the coming years."
Mr Nathan said the Commercial Accommodation Monitor was an important benchmark of how Rotorua was doing on a national scale and February's results highlighted a lot of positives for the region.
"The monitor also showed increased international visitor activity in Rotorua during February.
"International visitor nights spent in Rotorua's commercial accommodation were up 15.2 per cent compared to February last year, versus an 8.3 per cent increase nationally," he said.
It also showed Rotorua's hotel and motel sectors did very well overall, with hotels up 22.5 per cent and motels up 27.3 per cent year-on-year. Rotorua's tourist attractions also did a roaring trade.
In February, there was a 12.3 per cent increase in total visits to attractions taking part in the Rotorua Attraction and Activities Monitor, compared with the same time last year.
"These results are really encouraging and we're confident our nationwide Famously Rotorua campaign, which launched late last year, will pay big dividends over the next three years by attracting even more domestic visitors here than ever before," Mr Nathan said.
***
Visitor nights up 19.2 per cent to 80,500
International visitor nights up 15.2 per cent
Hotel visitor nights up 22.5 per cent
Motel visitor nights up 27.3 per cent
Tourist attraction visitor numbers up 12.3 per cent
Chinese visitors to tourist attractions up 28,800 to 63,000
* Compared with February 2012
For more articles from this region, go to Rotorua Daily Post