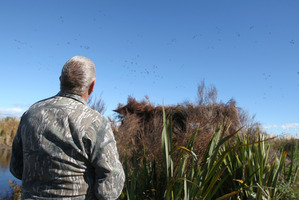 Duck shooters might be forced to "think laterally" about where they shoot when the game bird season opens tomorrow, with the drought meaning hunting on smaller ponds and wetlands could be tough going.
Fish and Game officer Matthew McDougall said it still wasn't clear what impact the drought would have on the condition of the birds, but it had meant that they were flocking to larger rivers, lakes, harbours and estuaries.
"Those that traditionally hunt smaller ponds may be doing it hard."
Mr McDougall said the season was going to be an interesting one and said shooting on larger water bodies could be quite good because the ducks were so concentrated.
"The main positive from the drought is that the ducks will be concentrated in larger bodies of water and hunters targeting those areas are likely to come into contact with larger portions of the local population," he said.
"They may shoot quite a high population of the birds out there."
He said the big unknown was what condition the ducks would be in with food and habitat under pressure during the big dry.
"What we don't know is how many of those have survived this drought."
The Eastern region had responded by limiting its season to four weeks for mallard and grey duck.
Upland game birds - pheasant and quail, and other game bird species such as paradise shelduck and black swan - have a longer season extending into July and August depending on the species and region.
Fish and Game rangers will be out across the Eastern Region this weekend checking hunters' success and making sure hunting regulations are being followed, hunters are carrying their licenses and they're complying with the ban on using lead shot ammunition in 12-gauge shotguns over open water.
Hunters are also encouraged to report any banded birds harvested, along with band number, location and date recovered, and their personal details, to help Fish and Game monitor birds and ensure sustainable hunting in future.
For more articles from this region, go to Rotorua Daily Post