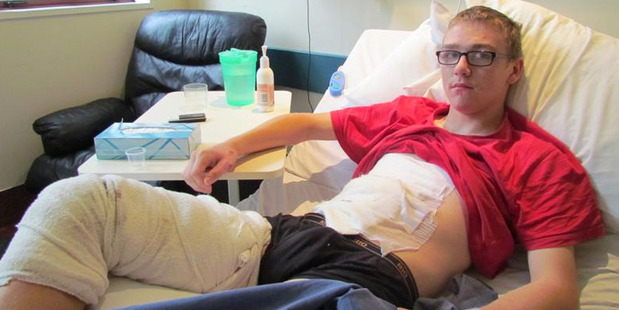 An Oamaru teenager who ended up with serious burns while playing with petrol after using the legal-high product K2 is calling for synthetic cannabis to be banned.
Kaden Johnston says he will be on the street, holding a protest placard himself, as soon as he can walk.
The 16-year-old suffered a combination of first, second and third-degree burns to his leg, stomach and hand when petrol caught fire.
He said he and a friend had smoked two or three 2.5g bags of K2 over a one or two-hour period before they got bored and decided to set a shoe on fire.
"We got petrol and poured it on his shoe, but in the process I spilled some down my leg and on to the floor.
"He lit his shoe ... and tried to put it out by waving it up and down in the air, but the flames from the shoe obviously just fell off on to the floor, which caught the petrol on the floor, which raced towards me and caught my pants on fire."
He said there was "no way" he would have been "huffing" the petrol. A combination of K2 and "youth stupidity" were to blame for his injuries.
He had been treated for burns for the past two weeks, but would remain in Oamaru Hospital for at least another week.
Doctors were still unsure whether he would need skin grafts.
However, compared with some other K2 users he had "come off lucky", he said.
"There's so many incidents were people have gone mental and not come right and had seizures and that sort of stuff."
K2 should "definitely" be banned, and he would join anti-K2 protests in Oamaru "as soon as I am able to walk properly", he said.
Although he was now aware that K2 made people do "silly things", when he first started smoking it two years ago, he was not aware "at all" of the product's potential dangers, because it was legal to buy in local dairies.
Other people also thought they were buying something safe, he said.
"They think it's a better, cheaper, healthier option than cannabis, but really it's not. It takes lives and makes people do stupid things.
"I realised ever since I started smoking it that it's really not good for you."