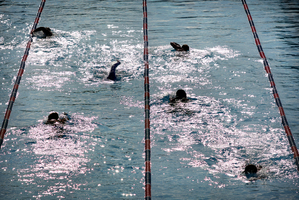 Free entry is being blamed for overcrowding so bad that disappointed swimmers are being turned away from Auckland pools.
Since April 2 entry to Auckland Council's 24 swimming pools has been free for children aged under 16.
The deal has been well received by many swimmers but others say charges should return so swimmers can guarantee a spot at their local pool.
One North Shore woman, who wished to remain anonymous, contacted the Herald after her family was turned away from Glenfield Pool and Westwave Pool yesterday.
The family arrived around midday and with up to 50 other patrons were told the pool was at capacity and they had to leave. The woman tried calling other Auckland pools but was told they too were at capacity.
"I've never ever had a problem getting into a public pool," she said. "There is obviously a surge in demand during the holidays - it's a peak time for them when they have larger than normal volumes, but this is the first time I have ever experienced an inability to get in, and not just at one pool but at all the other pools, too." She said the entry fees should return.
"I thought the prices were trivial anyway, it's a very affordable type of family entertainment ... I've never heard anyone complain about the price of the pool or decide not to go because it was too expensive."
Council had received a "range of feedback" from the public about the issue, a spokesperson said.
Restricted entry was introduced for peak times, usually between 11am and 4pm, at popular pools to control volume.
The free scheme was largely well received and problems were expected to ease when the school holidays ended this week.
Pricing
• Auckland Council pools have had free entry for children aged under 16 since April 2.
• Restricted entry has been introduced for peak times at popular pools.
• This is between 11am and 4pm.
Have you been affected? Send your story, photos or video here.