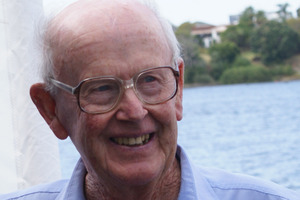 Bad decisions, poor weather and incorrect ground level readings may have contributed to a fatal plane crash that killed an 86-year-old man, an inquest has been told.
Former Olympian Geoff Smale was found dead amid the wreckage of his high performance microlight after it crashed near Nelson on April 9, 2011.
He was flying from Auckland to Ashburton on his first solo flight, and had only 300 hours' experience.
The inquest into his death was held today at the Palmerston North District Court, lasting just two hours before Coroner Carla na Nagara reserved her decision.
Stuart Parker, an experienced microlight pilot and instructor, told the coroner that electronic flight instrument equipment used by Mr Smale in his aircraft displayed incorrect readings, averaging the elevation data.
"It showed that Geoff was at 400ft above ground level; but he was actually 200ft below," he said.
It is believed that Mr Smale saw this reading immediately prior to his accident on Mount Duppa, 20km northeast of Nelson.
Civil Aviation Authority safety investigator Colin Grounsell told the court Mr Smale might have relied on this equipment to get him out of trouble but he shouldn't have been there in the first place.
Microlight pilots are obliged to follow visual flight rules which mean operating an aircraft in weather conditions generally clear enough to allow the pilot to see where he is headed.
"I was flying in Paraparaumu that day and I could see cloud across the top of the South Island," he said. "Mr Smale should have really turned back or landed in Paraparaumu."
Two flight plans had been established for the four-hour journey and despite being told by his friend Mike Leefe to take the most direct route, Mr Smale decided on the alternative.
"The route he chose to fly avoids any controlled airfields and this may have contributed to him taking this route - he wouldn't have had to make any calls to request clearance from the air controller," said Mr Grounsell.
But both routes posed similar challenges he said.
Richmond policeman David Colville said the search for Mr Smale began when he failed to arrive in Ashburton on April 9. Over the next two days, public sightings piled in and the wreckage was eventually found on April 11.
A post-mortem found the pilot had suffered very high impact injuries to his head, spine, chest and abdominal organs.
Mr Smale had received his pilot license at the age of 82.
- The Manawatu Guardian