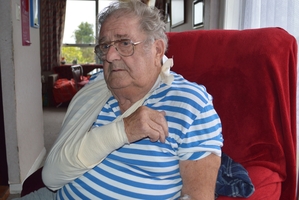 A bull mastiff dog bowled an elderly Runanga man over and tore a large chunk out of his arm - ripping his flesh to the bone - in a gruesome attack.
Jimmy Hambley, 81, said he got the fright of his life when he was viciously attacked by the dog that had strayed on to a Ballance Street property he was visiting yesterday.
Recovering at home, Mr Hambley said he was delivering a letter to someone at the address when the dog pounced.
"I entered the property and the dog was just lying there. I walked past it and was about to knock on the door, and then it attacked."
Mr Hambley did not get much warning. He heard the dog growl, then it jumped up and latched on to his arm.
"It all happened so quickly. I was knocked to the ground and the dog had a firm grip, then I roared at it to go away."
Thankfully, he said, the dog released his arm and he scrambled back into his truck.
"A fellow from across the road saw it happen and came to help, and the people from the house I was visiting gave me a towel to wrap up my arm with.
"It was bloody sore - I could see the bone and I knew it was bad," Mr Hambley said of the gaping, 15cm-long wound.
"All the layers of my skin had gone. There were bits of skin in my jersey."
He was taken to hospital by ambulance, where the wound was stitched up.
"I couldn't tell you how many stitches I've got, but there's heaps of them, and there is still a big chunk that has no skin on it.
"If it doesn't heal I might have to have a skin graft."
The injured pensioner was relieved it was him who was attacked and not a child as the repercussions would have been much worse.
He did not sleep well last night: "I kept seeing the dog coming at me. I would never trust that dog again, if it was mine."
For now he just wants his arm to heal and try to forget about the whole ordeal.
Grey District Council dog control officer Murray Malloch said today the dog had not been put down.
"We still have it locked up at the pound and a decision on its fate will not be made until we have completed our investigation."
GRS ln