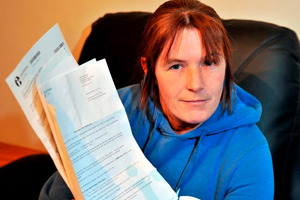 A Milton woman says she has received an apology from the Inland Revenue Department after claims it ignored her pleas that her name and IRD number were being used fraudulently by a Christchurch business for almost a year.
Process worker Danelle Byrne said she had "constantly" called IRD to tell the department her identity was being used by a Christchurch business, but her messages were ignored.
In June last year, she and her husband applied for a family tax credit but were told she had to file an overdue GST return for her Christchurch business before applying.
She told IRD she had never lived in Christchurch, had never been GST registered and had never owned a business, she said.
She was told the matter would be investigated, but she had to keep calling back for nearly a year. She left messages and her calls were not returned and continued to receive overdue GST return letters, she said.
The letters revealed the accrual of monthly $250 late filing penalties and threats of legal action.
On Tuesday, she called IRD and was on hold for nearly three hours before an automated voice told her the office was shut and her call disconnected.
"I was absolutely fuming."
Frustrated, she phoned the Otago Daily Times yesterday and after one of the newspaper's reporters contacted the department about the case, an IRD manager called Mrs Byrne a few hours later and told her to disregard any letters demanding she complete an overdue GST return.
"It's the most information they have told me in a year ... they said they know it's not me and the overdue GST return was still part of an ongoing investigation."
The manager apologised for any stress she had endured, she said.
She was "astounded" it had taken nearly a year for the information and she wanted a letter from IRD explaining why it had taken so long, she said.
"I'd like it in writing."
The family had been living in fear debt collectors would knock on the door, she said.
She had contacted Senior Constable Steve Griffiths, of Milton, who had called the IRD to vouch that he knew her and that she had worked in Milton for nearly 10 years, she said.
IRD staff had told Snr Const Griffiths that because of the Privacy Act any information could not be given to police or Mrs Byrne because it could compromise an investigation, she said.
"But what about my life?"
An IRD spokesman said the department was unable to comment publicly on an individual taxpayer due to customer confidentiality.