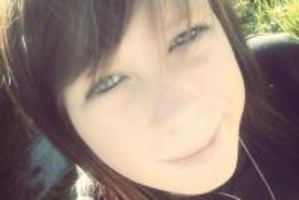 A grieving mother has made an emotional plea to a mystery motorist linked to the crash that killed her teenage daughter.
Courtney Hagley, 16, died when her car hit a tree near Palmerston North on Monday. It is believed she swerved to avoid a vehicle driving towards her on a narrow country road.
Her mother, Mary Hagley, has appealed for the driver of the other vehicle to come forward, saying she needs to know the full details of what caused her "nana driver" daughter to crash.
"Do the right thing and come forward and ... at least explain what actually happened," Ms Hagley said yesterday.
Courtney's boyfriend, 16-year-old Rex Stanbra, was in the passenger seat when their car crashed on Bainesse Rd at Rangiotu, shortly after 9am.
The couple were less than 1km from Rex's parents' dairy farm after spending the night at Courtney's mother's.
Rex, who survived with only a mild concussion and bruises, rushed to ask a nearby resident to contact emergency services.
He has told APNZ and police that another vehicle driving towards them forced Courtney to swerve.
"We were coming around an S-bend, [the other car] was driving the opposite way," Rex said.
"She swerved and just hit the gravel and slid into a tree."
Police said yesterday they had "not discounted the fact that another vehicle was involved".
Ms Hagley said her daughter, who was on a learner licence, was a safe driver.
"I know how she drives, she's a nana. She drives very slowly. She's a cautious driver ... she wouldn't have been going fast."
There had been a lot of support from Courtney's school friends and the community, she said.
Courtney's four younger brothers and older sister were already missing the girl who was "fiery-tempered" and "very bright at school", Ms Hagley said.
"She was sort of like the tower of strength in our family," she said.
"She'd stand her ground and she wouldn't back down to nobody, no matter how big they were."
Courtney's funeral is to be held on Monday.
Sergeant John May appealed for anyone driving in the area on Monday morning to contact Foxton Police on 06 363 8084 or Crimestoppers, anonymously, on 0800 555 111.
- APNZ