Young Kiwis say British capital's example of congestion charging worth following.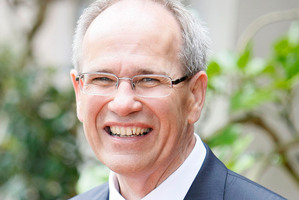 Road charges which Aucklanders are being asked to consider to close a $12 billion transport funding gap have won backing from young Kiwis represented by a group called Generation Zero.
The group, which claims more than 3000 followers in its efforts to combat climate change, yesterday pointed to the traffic-easing success of London's congestion-charging scheme as an example Auckland should follow.
Spokesman Ryan Mearns, an Auckland University urban planning student, said London had shown a way of getting "beyond our dependence on private cars and towards a transport system where we have a decent choice about how we move".
But he said raising money from road-users should not let the Government off the hook of part-funding projects such as the $2.4 billion central city rail tunnels to give a viable transport alternative.
Prime Minister John Key has questioned the practicality of road-pricing, which is among two options Aucklanders are being asked by a "consensus building" group to chose from, to help to pay for $68 billion of transport projects and operating costs deemed necessary to cope with a million extra residents by 2041.
"We are probably a long way in reality from having gantries and the technology that will allow us to do that," Mr Key said of the proposal, on which the 17-member multi-sector group appointed by Auckland Mayor Len Brown will make a final recommendation to city councillors in July.
But motorists already pass under gantries when using Auckland's Northern Gateway toll road and a consultant to the Government on previous roading-charging proposals said it should not be too difficult to adapt that facility's "back-office" billing technology to city streets.
"You wouldn't put gantries up in the city, but what you have in London are cameras on sticks," said Deloitte finance partner Paul Callow.
"The technology behind them is pretty well-established, taking photos of number-plates and matching them with the [motor registration] data-base."
Mr Callow said road charges would provide a better return on the large investments already being made in public transport than the other option facing Aucklanders, of hefty rates and fuel tax rises from 2021.
He cautioned against motorway tolls proposed by the mayoral group as one of two charging ideas, saying they were ruled out in 2006 as the least favourable of five options considered by the Ministry of Transport.
Not only would mitigation costs in terms of more public transport have exceeded toll revenue, but too much extra traffic would have spilled into city streets.
Although the mayoral group is also proposing an alternative of charging motorists for passing under a cordon of cameras around key parts of the city, that was considered the second least favourable of the previous options. The most economically favourable option - higher parking levies - has been discounted by the mayoral group.
• Have your say: www.keepauckland moving.org.nz
Mixed verdict on congestion charge
Opinions remain divided 10 years after London imposed a congestion zone around the heart of the city.
Introduced by Mayor Ken Livingstone in February 2003 against fierce political and public opposition, the boundary marked where motorists would be charged 5 ($9) to drive through between 7am and 6pm.
The daily rate has now doubled to 10 for the average car, but eco-friendly vehicles are exempt.
The logic was simple. Too many cars had slowed traffic to a crawl, crippling the economy. Something had to be done to get London moving.
Cameras now record each vehicle's number plate and the system allows until midnight to pay.
In the first year, congestion decreased by 30 per cent. But three years later, congestion was only 10 per cent less than in 2002 and currently is close to the levels experienced before 2003.
Similarly, average traffic speed in central London has not improved over the past six years. Critics say this is proof that the congestion charge does not work. Officials say the opposite - that without the zone, congestion would be much worse in a city where the population has grown 13 per cent over the same time.
Supporters, such as the present mayor, Boris Johnson, also point out that commuters use public transport more often. The number of kilometres travelled by bus has increased 34 per cent and the use of the Underground system by 13 per cent since 2001.
A report by Jonathan Leape, of the London School of Economics, said the charge was a success because congestion was especially severe, and London already had established, reliable public transport.
- Jared Savage UK correspondent