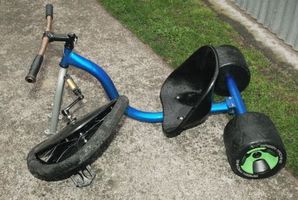 The father of the 7-year-old boy who was badly injured in a hit and run on Sunday is struggling to come to terms with how the driver of the car could leave his son lying in the street.
The man, who did not wish to be named, has issued a plea for the driver to turn themselves in.
"He must have seen him, it's such a wide street and there are always kids around. People know to take care and they normally slow down," he said.
Witnesses say the vehicle was a black car with a silver stripe. It hit the boy around 3pm on Montgomery St, Hastings, while he was playing near the end of the driveway to his dad's house. Witnesses said the driver then reversed back from the young boy as he lay in the road and sped off in the direction he came from.
The boy's father said he could not fathom how someone could just drive away, and hoped they will turn themselves in.
"They didn't have the decency to stop. If they have any heart they'll come forward. What if it had been their son or daughter? I just want them to think about what they've done and just own up. And if they don't I hope what they've done just builds inside them, and they carry that burden. I hope they have nightmares about it."
The street was still bustling with young children when Hawke's Bay Today went to visit the family of the boy yesterday. The father described it as a family neighbourhood.
"Because there are so many kids around here people do normally slow down to 20 or 30 kilometres," he said. "I am grateful the driver was only doing those kind of speeds, otherwise it might have been fatal."
He had briefly gone to the back of the property when the incident occurred. He heard a scream from his son followed by the screams of a neighbour.
"I ran back out onto the street and saw my boy trying to crawl from the road to the footpath. The look on his face was just so scary. I ran out to him and held him in my arms. His body felt awkward and I didn't know what was wrong with him. He said to me: "He didn't stop, dad"."
An ambulance took the young boy to hospital where he had surgery for injuries in his pelvic region. The hardest moment for his father was as he lay in the hospital bed. "He was in so much pain and he didn't know what was happening ... He said: "Am I going to die, dad?" I just cried and told him, "No son, you're not dying"."
He said his son had been brave throughout the ordeal and had comforted the rest of the family. He was more concerned by the fact they were upset.
"He was looking out for me and for his sisters. He didn't want us to cry. The nurse told him "You're his baby, he's allowed to cry"."
The boy was discharged from hospital on Monday afternoon and is on pain medication for the stitches he received to repair lacerations.
His father said the team of doctors and nurses who looked after him at the hospital were "awesome". He also wanted to thank Sergeant Ray Kirkby who is leading the investigation and has kept in regular touch with him since the accident occurred.
The boy had been visiting his father for the school holidays at the time. The tricycle he was riding had been a present from his dad to use while he was there.
"It's just so sad that he had to go through all of this when he was meant to be here enjoying himself for the week.
"It's his holidays and he's meant to be having fun but he was lying in a hospital bed in pain."
For more articles from this region, go to Hawkes Bay Today