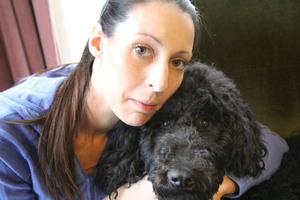 Eight tennis players surrounded a woman and a poodle and fought off a bull terrier that was attacking them in Christchurch at the weekend.
Pip Clark had been walking her dog Charlie on Sunday morning in Burwood Park when the staffordshire bull terrier rushed towards her.
It was at the other end of the park with its owner and two other dogs, including a rottweiler.
"They were big dogs. I thought I saw the man put them on a lead so I kept walking the other way. I walked past some trees and this staffy just came out of nowhere and started biting Charlie," she said.
"I thought I was going to lose him. I was trying to defend him but this dog just would not stop trying to bite him. It kept latching onto his neck. I tried to calm the staffy down but that didn't work. I was trying to lift Charlie up, hoping the staffy would drop off which it did. But it started jumping, scratching and biting my thighs. It was latched onto Charlie's neck so I started screaming for help. I was terrified."
Nearby, Burwood Tennis Club members were playing their club championship.
President James Kirner heard Ms Clark's cries for help and with seven other players rushed to help. They pulled the attacking dog off Charlie and then formed a circle to keep it from getting at him again.
"The staffy kept coming back for more. The rottweiler also started coming toward us and ran around the circle, trying to get Charlie. He might have got a few taps from the tennis rackets but we had to get them away," said Mr Kirner.
Mr Kirner said owner of the staffy tried to hold onto the rottweiler and his other dog.
"He didn't really do much. He clearly couldn't handle his dogs," he said.
The tennis players carried Ms Clark and Charlie back to the clubrooms and waited for city council animal control, police and an ambulance to arrive.
"We could see she was in trouble and we were all only too happy to help. It was lucky we were there because on a Sunday we never are. We dived in and helped. Pip's a brave wee cookie. A lot of people just would have left their dog there and taken off but she didn't," said Mr Kirner.
"They are my heroes. They came to my rescue. I didn't think anyone would come to help me. I think Charlie would have been killed and I probably would have ended up in hospital," said Ms Clark.
"The dogs were like a pack, they all wanted to have a go at Charlie. It was so scary. I am still in shock from it. I am not sure if I want to to walk my three dogs, Pepe, Jack and Charlie, at the park again.''
City Council Acting Inspections and Enforcement Unit manager Anne Columbus said the owner had voluntarily had the staffordshire bull terrier euthanised.
A decision has not yet been made as to whether any charges will be laid against the owner.