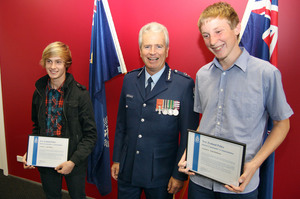 Heroic Cantabrians were recognised at a police awards ceremony yesterday for their brave efforts from pulling an unconscious driver out of a submerged ute to wrestling a shotgun off an offender.
Greenpark teenagers Angus Bailey and Liam Robinson, both 14, received a District Commander's Commendation for "bravery and initiative" in saving unconscious Andrew Tobeck who had crashed his ute into the Halswell River on February 10.
At the same awards, Senior Constable Lyal Bayliss received a gold merit award for bravery, which is the highest merit award granted in the police, for wrestling a firearm off a suspect after a home invasion in Northcote with the help of his dog Brock, and Constable Darren Pavelka, on October 2, 2012.
Angus and Liam said they "felt like heroes" after receiving their awards.
"It made what we did, real. It didn't really sink in until we got our awards.
It was just about saving his life. It felt great being recognised and we felt very honoured," Angus said.
The two teenagers, from Greenpark, wrenched the door open against the flowing water, pulled Mr Tobeck out and dragged him onto the bank about 6pm.
Angus held him in the recovery position while Liam went to a nearby house and called an ambulance.
"We just got straight in there and helped him. We weren't concerned about ourselves, we just had to get him out of the water. We never thought we would have an opportunity to save someone's life. It was quite scary at the time," said Angus.
Mr Tobeck made a full recovery.
Two men, both wearing balaclavas, had forced their way into a Northcote home and demanded money from Sarah Walker who had been asleep in the house with her two children in October, last year.
A single shot was fired inside the house and Ms Walker tried to wrestle the shotgun off the offender before she escaped and called for help.
Senior Constable Bayliss said the incident, where the offender pointed a loaded shotgun at him moments before Brock latched onto the offender's leg, "isn't one he has forgotten in a hurry".
"There is still the odd occasion where you start to re-hash what happened on that night and you start thinking about the 'what ifs'. Brock did all the work. He gets to go home and sit in the run and not think about what has happened. Brock was the one who gave us the opportunity to apprehend him. I knew an award was coming but I didn't think it would have been to this extent. I was just doing my job," he said.
Last year, Senior Constable Bayliss told The Star he had promised Brock an ice-cream for his efforts and he kept his word.
"He enjoyed every last drop of it. At the time I was wound up and angry. I had been in the job 14 years and it was the first time I was in a position like that," he said.
Constable Pavelka would receive a similar award when he was next in Christchurch.
Detective Inspector Tom Fitzgerald received a bronze merit award for running the police case for the Royal Commission of Inquiry into the Pike River Mine disaster.
Detective Inspector Virginia Le Bas received a commissioner's recommendation for her work as an investigator, leading high-profile missing person cases that later became murder inquiries including Marie Davis in 2008, Tisha Lowry from 2008 to 2009 and Hayden Miles in 2011.
Constable Simon Mooney and Constable Stephen Anderson received a district commander's commendation award for their prompt and immediate action after they saved a man, who they found face down in 1.5m of water in the Avon River on December 5, 2010. The man made a full recovery.
Constable Chris Healey and Constable Miriam Erber received their award for distinguished and meritorious conduct after the pair responded to a man who was attempting to commit suicide on the New Brighton Pier on September 29, 2012. The man had put a rope around his neck and had anchored it to two railings and was threatening to jump.
The pair spent three hours negotiating with the man who was becoming disoriented and displayed signs of hypothermia. The pair were able to drag the man back across the railing.
Constable Blair Terrell was the officer in charge of a search warrant in March 2010 and the arresting officer for an offender suspected of supplying Methamphetamine. The search warrant located firearms, ammunition, 30 grams of Methamphetamine and in excess of $30,000 cash.
Constable Terrell was commended by the Crown for his investigative work and file preparation which was instrumental to a conviction where the offender received seven and a half years in prison.