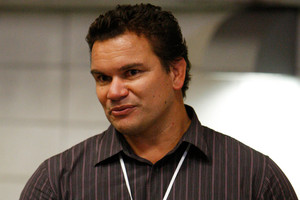 Michael Jones has hit back at the critics of former sportspeople being appointed to jobs such as the Race Relations Commissioner and defended Dame Susan Devoy, saying she could be a "powerful vehicle" for increasing the status of the office.
Mr Jones, a former All Black, was offered the job but decided to turn it down for family reasons.
Dame Susan was appointed to the position and has since faced criticism and questions over her experience. Former Silver Fern Irene van Dyk was also interviewed and Mr Jones was angered by Green co-leader Metiria Turei's comments questioning whether the three had the skills required "or are they just famous"?
Mr Jones said he disliked being typecast for his sporting career as it ignored other aspects of his life.
"I do feel for Dame Susan, because the same thing is happening to her. It's pretty easy to beat up on high-profile sports people and put them in a box, but we have so many strands to who we are."
Mr Jones said he applied for the job because he believed the Race Relations Commissioner was important and should play a bigger role.
"It would be fair to say that the mana that should be attached to that office hasn't been there for many years. That is why I put my hand up initially, because it is a critical role in Aotearoa society."
He defended Dame Susan, saying a relatively high-profile person could help strengthen the office.
"I'm sure Dame Susan is on a fast learning curve, but she's a tough lady and she's courageous ... hopefully she can raise the mana of the office, and particularly reach out to mainstream.
"A big part of the office is to ensure the mainstream embrace race relations as much as the minorities. In that respect, she is a very powerful vehicle for that."
•Dame Susan has pulled out of an advertising campaign she fronted for a Nelson spa pool company after full page ads of her appeared in the New Zealand Woman's Weekly. Last night Dame Susan said: "The arrangement was made last year. However, in light of my appointment ... I will be terminating the agreement."
State roles for sportspeople:
*Bernice Mene, former Silver Fern. Appointed to Government's Constitutional Review Panel in 2011
*Chris Laidlaw, former All Black. Appointed Race Relations Conciliator in 1989 after serving as a diplomat, including High Commissioner to Harare. Labour MP in 1992-1993.
*Hiwi Tauroa, former NZ Maori rugby player, appointed Race Relations Conciliator 1980-1986.