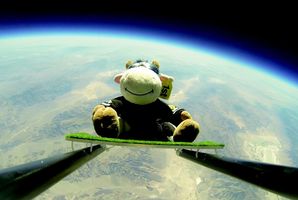 New Zealanders have sent a cow into space, but she didn't quite make it over the moon.
Eva, the stuffed mascot of Bay of Plenty internet company Enternet Online, was sent to the edge of the final frontier, complete with sunglasses to protect her button eyes.
The company won a worldwide competition to send an object to the edge of space in a Nasa expedition in support of World Earth Day on April 22.
Eva travelled to Bishop, California, before being launched into space in a specially-designed balloon capsule, reaching an altitude of 36km.
She parachuted back to one of the hottest places on Earth, Death Valley, where she was rescued after an 18-hour recovery mission which included students from the local high school.
The main purpose of the expedition was to gather information and samples from the atmosphere and capture images of meteors.
Enternet Online's managing director, Terry Coles, said they heard on Friday morning their mascot had made it back from her expedition with the data intact.
"Even then they weren't sure the video and images would be retrievable given the temperature extremes in Death Valley.
"But luck was on our side and today we received the video and images."
Mr Coles said the point of Eva's space journey was to promote the Bay of Plenty to a global audience.
For her journey, Eva wore Tauranga City mayor Stuart Crosby's lapel pin and Western Bay of Plenty mayor Ross Paterson's badge. Tourism Bay of Plenty general manager Rhys Arrowsmith said it was an exciting project to be a part of. Amelia Wade