Mourners flock to pay respects but locals say they can handle the crowds however big.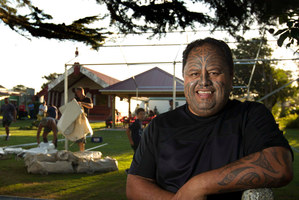 Thousands are likely to pay their respects at Parekura Horomia's tangi at Tolaga Bay this week but no matter how many come locals say they'll be ready.
The lawns were mown at Hauiti Marae yesterday, trees were pruned to make way for marquees, and kai tents were put up. The tents will service the overflow of mourners who won't fit into the dining hall.
It will be one of the biggest funerals this year.
Ngati Kahungunu was rumoured to have brought eight busloads full to pay their respects to the former Maori Affairs Minister and MP for Ikaroa Rawhiti who died on Monday.
The Labour Party is planning to arrive en masse today with leader David Shearer arriving back in New Zealand early this morning after cutting his trip to the United States, and other members of the caucus hiring a plane from Wellington.
Prime Minister John Key is planning to pay his respects on Friday.
Mr Horomia's body will taken on to Hauiti Marae at 9.30am today by one of his tribes, Ngati Kahungunu, along with Maori Affairs Minister Pita Sharples and Te Puni Kokiri officials, King Tuheitia, and Tainui.
The official Maori Party delegation will arrive tomorrow.
Te Aitanga a Hauiti tribal spokesman Wayne Ngata said the scale of the event was not a worry for the hosts.
"This is Maori Management 101. When we have a tangihanga you don't know who's coming, you don't know how many, how long they're going to stay and you don't know who's paying for it," he joked.
"You just deal with it.
"If you look that way there's the sea and our boats are out there now, if you look that [way] there are our farms we've got 25-odd mutton hanging there now, beasts are being killed right now."
The effects of the event which will end on Saturday are rippling out through the district.
On the way into the coastal village from the Gisborne end there are temporary 30km speed signs in place to warn the logging trucks that rumble through to slow down.
Gisborne Isite spokesman Ryan Raggett said virtually all motel and hotel rooms had been booked because of the tangi. Surrounding marae on the east coast were also gearing up to accommodate people.
Dr Sharples has asked the Defence Force to help and it has sent a transportable kitchen and caterers to help.