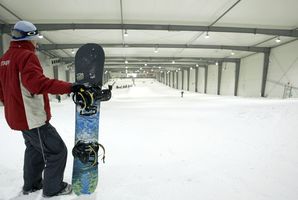 A young Snow Planet employee was taken to hospital after spending an hour trapped in a machine with his arm caught in a conveyer belt.
The man, believed to be in his early 20s, was trapped so far inside the machinery only his legs were visible when emergency crews arrived, and the machine had to be dismantled to free him.
Silverdale Fire Station chief fire officer Beven Shaw said two fire engines and rescue crews attended the incident shortly after 6.30pm yesterday.
"It looks as though he had got caught when he was trying to clear something, perhaps some ice or something, off a conveyer belt that was not turned off, and it would appear his hand or his clothing had got caught and he's been dragged up and into the machinery," he said.
"When we got there we could only get access to his legs; he was laying on the ground in the snow underneath the machine, wedged up into the mechanism at the end of it.
" We couldn't get to his head or his arms."
He was so inaccessible that St John Ambulance staff had to inject a drip into his foot, said Mr Shaw.
Fire crews used cutting devices to dismantle the machine.
The man was conscious and in "good spirits" during the rescue.
"He was getting numb and there was a risk of hypothermia because he was laying directly on the snow underneath this machinery, but he was in good spirits, not really panicking and he wasn't in a huge amount of pain."
Snow Planet staff were investigating the cause of the accident.