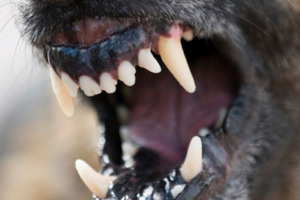 A Methven couple have pleaded guilty to a raft of dog control charges after their dogs escaped and attacked five people.
Sharon van Duinen, 39, and Graham Leslie van Duinen, 51, appeared before Judge Chris Somerville in Ashburton District Court yesterday. Both pleaded guilty to five charges related to the February 8 attacks, laid under the Dog Control Act.
The dogs were already on the Ashburton District Council watch list following an earlier attack on a person, who entered the property despite a warning sign. As a result fencing was upgraded and additional signs, warning of menacing dogs, were posted.
On February 8, the couple's two large dogs escaped the property and attacked five people.
Yesterday's charges referred to a bull mastiff cross, which first attacked siblings, aged eight and 12, walking home from the nearby community swimming pool about 5.30pm. The children were knocked down and mauled before three local teenagers, who were driving past, came to their rescue.
As they got the children to safety in the car, one of the rescuers was bitten on the back of the leg.
The dogs then turned their attention to a 67-year-old Canadian tourist, who was hanging washing behind a nearby guest lodge. In an earlier interview with the Guardian, she described the pair as ``hunting'' her as they came up the driveway; before one attacked. She was left with a tear injury on her elbow, puncture marks to her arm and hip, a large cut on the back of her neck and a puncture wound in her her foot. She required 25 stitches and her travel plans were disrupted.
Having dropped the injured children home, the teenage trio - all secondary school students, performed their second good deed, assisting the Canadian woman and her husband to get medical treatment.
They then used the vehicle to trap the dogs in their owners' property, where one had a close shave when a dog lunged at her as they attempted to close the gate.
The fifth victim, a council dog control ranger, was bitten while impounding the animals soon after. Both dogs were later destroyed with their owners' consent.
Ms van Duinen was represented by Michelle Barrell during yesterday's appearance, and her husband by Marilyn Gilchrist.
Ms Gilchrist offered guilty pleas on all charges provided the case was referred to Restorative Justice. Ms Barrell followed suit, pleading guilty on all counts on behalf of her client.
Ms Barrell pointed to mitigating circumstances relating to the offending, particularly to reparation and compensation, but did not elaborate.
The police prosecutor agreed to proceed with this process, and Judge Somerville took heed, remanding the defendants at large on all matters without conviction, until July 22 for the Restorative Justice process to take place.
Both offenders are required to be back in court on that date, where the judge will hear reports before sentencing is decided.