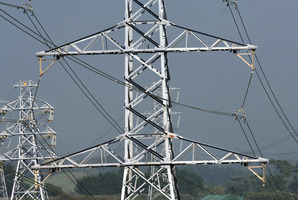 A woman who took on the Government after it tried forcibly relocating giant power pylons onto her Christchurch land has won her case in the highest court in the country.
Ann Seaton, 61, was horrified when told that Orion wanted to move three high-voltage electricity towers on her property, to make way for the widened Russley Rd in Christchurch as part of a project to upgrade State Highway 1.
The New Zealand Transport Agency (NZTA) tried to use the Public Works Act 1981 to force Mrs Seaton to accept the relocation of the towers onto her land.
Mrs Seaton lodged an objection with the Environment Court, before applying for a High Court judicial review.
The High Court found in her favour but its decision was overturned by the Court of Appeal.
Now, the Supreme Court has concluded that the Minister for Land Information was wrong in forcing Mrs Seaton to take the pylons, saying it was not necessary as part of the Government work of road-widening.
The court ruled that it was up to the power company, not the minister, to find a new home for the pylons.
Mrs Seaton, who has been awarded $25,000 in court costs, today spoke of her relief at the Supreme Court's ruling.
"It's been a long time coming," she told APNZ.
- APNZ