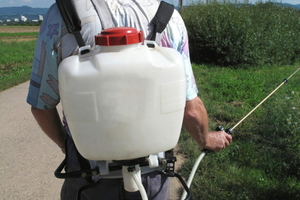 A Tauranga asthmatic was unable to breathe when the Tauranga City Council mistakenly sprayed the toxic herbicide Escort in sand dunes at Omanu.
Neighbour Antje Lankenau said she experienced her worst ever asthma attack when a council contractor used Escort on agapanthus.
It led to a petition that challenged the council on why the spray was used in the dunes when the manufacturer's recommendation was that Escort was to control gorse and other scrub weeds in pasture and waste areas.
Ms Lankenau also complained that only one sign was tacked to a fence on the road side to the beach entrance opposite the end of Girven Rd.
"We found no signage at the beach entrance.
"Why do we have to be exposed to toxic chemicals like this," she asked a meeting of the council yesterday.
She only became aware of the spraying when she suddenly found she was unable to breathe inside her house.
In a separate open letter to the council, Ms Lankenau highlighted the destruction of insects, birds and animals like hedgehogs and skinks by toxic sprays when a living ecosystem in the dunes was turned into a "desert landscape".
City Parks manager Marie Gordon told yesterday's council meeting that although Escort was on the list of approved chemicals, where it was used on December 4 was not permitted.
It was also only to control selected species.
Councillor Bill Faulkner, who chaired the meeting, admitted that the council had got it wrong and had stopped using Escort.
Park rangers team leader Warren Aitken said an experienced contractor had used a backpack sprayer in order to reduce spray drift as much as possible.
"They take as much care as possible."
The incident has led to a refresher course being held for staff and contractors involved in applying chemicals.
For more articles from this region, go to Bay of Plenty Times