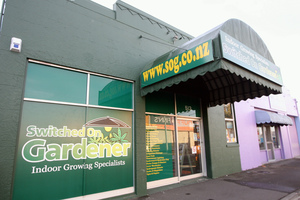 Switched on Gardener will stay open despite the business playing a central and pivotal role in 106 cannabis operations.
The company's owner Michael Quinlan and general manager Peter Bennett were sentenced today to four years and three months and three years and nine months prison respectively.
The pair were convicted of 16 counts of supplying equipment to grow cannabis through their national chain of 16 stores. Bennett was found guilty of an additional count of possessing equipment.
Two companies associated with Switched on Gardener were also found guilty and fined $125,000 each at the Auckland District Court today.
In a separate judgement, Judge Gus Andree Wiltens declined an application by the Crown to seize shares in the two companies known as Stoneware 91 and Hydroponic Wholesalers Ltd.
Crown prosecutor Ross Burns had argued that the companies were an integral part of the offending, and were represented by shares.
But Judge Andree Wiltens said the shares were not used to commit crimes and one of the companies was not owned by Quinlan.
While the companies are safe for now, the Crown has filed papers in the High Court at Auckland to restrain the 53-year-old's $1.3 million home at Gulf Harbour, north of Auckland.
The property's official valuation describes the four-bedroom house as "a superior quality executive home".
Crown lawyers have already restrained his $1m Queensland property that includes a spa and swimming pool.
A bank account in Quinlan's name holding A$189,352 has also been frozen, according to the High Court file.
It is understood the Crown could now seek the company assets as well.
The legal action has been held up for nearly three years by Quinlan's criminal matters in the district court.
Today Judge Andree Wiltens described the business as having operated "very close to the edge"; selling marijuana pipes, advertising in pro-marijuana magazines and using a stylised marijuana leaf as its logo.
It also sold fertiliser with suggestive names such as Budzilla and Headmaster.
Undercover police officers visited the 16 shops nationwide and were able to engage staff in conversations about growing marijuana.
"Some of the undercover officers managed to purchase cannabis, dried and ready to consume, and cannabis plants," the judge said.
He also spoke of evidence that showed staff smoked the illegal drug with managers after successful stocktakes.
"Switched on Gardener operated as a veneer of legitimacy, shielding the illegal activity," Judge Andree Wiltens said.
At the conclusion of the police operation - dubbed Operation Lime - officers executed 110 search warrants, uncovering 106 growing operations, 3000 cannabis plants and 23kg of the dried drug ready to consume.
"The involvement of Switched on Gardener was central and pivotal," said Judge Andree Wiltens.
Evidence at trial from one witness suggested that only five per cent of Switched on Gardener's profits were from legitimate means.
"This appears to me to be an enormous enterprise in illegal conduct."
Judge Andree Wiltens reduced the men's jail terms after taking into account testimonials from the community.
He also recognised changes Switched on Gardener had made, including no longer selling pipes or advertising in pro-marijuana magazines.
The public gallery was crowded with supporters who watched today's proceedings.
Outside court, defence lawyer Paul Davison QC said he was considering appealing the convictions and sentence.