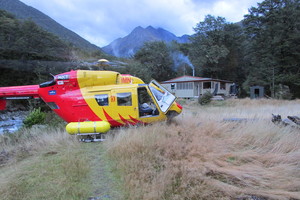 Two teenage boys who became separated from their tramping group in Nelson have trekked through the night to find their companions at the same time a rescue helicopter arrived to search for them.
The boys' three friends activated a search beacon about 1am after the duo failed to arrive at the John Tait Hut in the Nelson Lakes National Park where they planned to meet last night.
The Nelson Marlborough Rescue Helicopter was delayed by the weather but eventually reached the hut at 7am.
The rescue crew was greeted by the party of five trampers from Auckland.
The trampers said the two boys had become separated from the group after taking a wrong turn and ended up at a different hut yesterday evening.
After realising their error, the boys retraced their steps and tramped through the night before arriving at the correct hut early this morning, almost at the same time as the rescue helicopter.
- APNZ