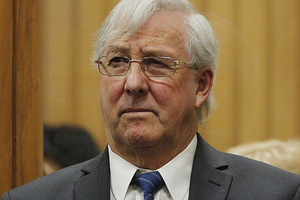 The man accused of murdering Turangi service station attendant Rodney Tahu has made a shock retraction of an earlier admission that he had killed the father of two.
Menzies Hallett is on trial for the murder of Mr Tahu who was gunned down after he completed a shift at the Turangi Shell service station on August 16, 1979.
During his closing submission this morning, Crown prosecutor Fletcher Pilditch told the court Hallett had retracted an earlier admission that he had shot and killed Mr Tahu.
He told the jury of nine women and three men there were just two issues to consider.
"The issues really are two; was it the accused and if so did he have murderous intent?"
The Crown alleges Hallett shot Mr Tahu twice, once in the shoulder and a second shot to the head.
"The accused looked down on Mr Tahu injured on the ground," said Mr Pilditch.
"He took aim for a third and final time with a certain knowledge that pulling the trigger would end his life - and Mr Hallett pulled the trigger."
"The Crown's case is that he is guilty of nothing short of murder."
This morning Hallett's defence didn't call any witnesses.
In his closing submission, defence lawyer Paul Mabey QC said the jury need to remove all their emotion from their decision making.
In his opening last week, Mr Mabey told the jury Hallett accepted he was the man who shot Mr Tahu but the issue would be whether it was murder or manslaughter.
Court has now been adjourned until 10am tomorrow morning, when the judge will sum up the case before sending the jury out to consider its verdict.
- more to come