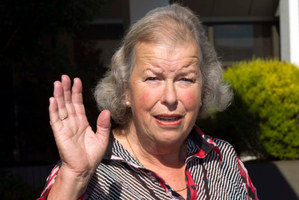 A woman has described how her former husband showed her the revolver he allegedly used to gun down a service station worker more than 30 years ago, throwing it on her bed and saying: "There it is."
Susan Sharpe is a key Crown witness in the cold case murder trial of her former husband, Menzies Reginald John Hallett.
The Crown alleges a dispute between the pair over custody of their children enraged Hallett and sparked his "flash point", leading him to shoot Turangi Shell station attendant Rodney Tahu in the early hours of August 16, 1979.
Laws at the time meant Mrs Sharpe could not testify, weakening the Crown's unsuccessful original case against Hallett, but reforms to the Evidence Act overturning this led police to reopen the 33-year-old file last year.
At the High Court at Rotorua yesterday, sobs could be heard from Mr Tahu's family in the public gallery as Mrs Sharpe told how Hallett arrived at her Wellington apartment early in the morning and described to her what he had done just a few hours earlier.
The night before, Hallett had phoned up "drunk" and angry about a letter she had written denying him custody of their two daughters, whom he wanted to live with him in Taupo, she said.
Early the next morning, Mrs Sharpe "heard a voice at my window saying, 'Sue ... Sue ...' in a very soft sort of a tone".
Mrs Sharpe let Hallett in, chatted with him, and made him a coffee, but it was when she was wanting to leave for work that he said there was something he needed to tell her, she told the court.
"He said, 'Sue, I've killed someone ... killed someone in Turangi'."
Hallett appeared "calm and normal" when he revealed this, leaving Mrs Sharpe in "disbelief".
She said Hallett had been driving south to sort their differences out when he heard a rattle in his vehicle, pulled into the Turangi service station and, needing oil, asked the attendant for help.
Hallett reacted angrily when he was refused because the station had just closed, calling the worker a "black bastard", she said.
The worker approached Hallett, who allegedly drew his pistol and fired at him, missing once.
"He said he'd fired another shot and the man fell over saying, 'Help, help, help,' and then he just walked over to him and shot him in the head."
Hallett then "turned around and walked away ... and he couldn't look back".
Mrs Sharpe said Hallett not only told her what gun he had used, but showed her.
"He pulled it out of his belt and threw it on the bed and he said 'there it is' and it lay there for the rest of the morning."
Mrs Sharpe was "very familiar" with the pistol - Hallett had even slept with it under his pillow during their honeymoon, she said.
At 8 o'clock that morning, she said Hallett suggested tuning in to the radio news "to see if it really did happen or whether it was a dream".
"So I turned the radio on - and it was on - and he made a comment that he was amazed how long it took for the body to be found."
Hallett then began considering heading to the South Island, where he could dump his weapons or take his own life, she said.
Mrs Sharpe told defence counsel Paul Mabey, QC, that Hallett had been calm when talking to her at first: "A little later on, a few little tears came and a little shudder ... but that was about the sum total of his emotion."
Mrs Sharpe alerted the police and Hallett was arrested the next day after a stand-off with police near the Napier-Taupo Rd.
He was charged with Mr Tahu's murder a few days later.
A former flatmate of Hallett's, Warwick Nunns, also told the court how Hallett gave a "brief account" of the murder to him one night in the 1980s.
"My only query to him was ... why was he still a free man?" Mr Nunns said.
"He told me that the rules of evidence didn't apply at the time and a case couldn't be brought against him for a lack of evidence."
A former girlfriend, Beverley Emmerson, also testified Hallett had told her he had "been involved in this murder and he had shot someone".
The trial continues today.