Zoo veteran has been alone for too long and should be retired to a sanctuary with a herd.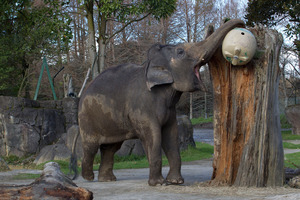 'Elephants are highly intelligent and social animals who need to be with other elephants; it is not practical for Burma to stay at Auckland Zoo on her own long-term.'
So says Auckland Zoo's website. If that is true, why has Burma the elephant been on her own for 3 years with the distinct possibility of her solitary life stretching to five years or more?
Surely we as right-thinking and compassionate Aucklanders have to be concerned at Burma's continued enforced solitude at Auckland Zoo since her companion, Kashin, died in August 2009? This week we learned it is likely to be at least mid-2014 before Burma gets a pachyderm companion.
By that time she will have been on her own for 4 years. We should be genuinely concerned that this majestic social creature is being denied contact with her own species. I certainly am.
Auckland Zoo has kept elephants since 1923 when Jamuna, a female Indian elephant, arrived.
Kashin was perhaps the zoo's most famous elephant. Born in captivity in 1968 in Bangkok, Kashin came to Auckland Zoo in 1972 aged 4. She got her name from an ASB naming competition ("cash-in"). She became well-known when ASB distributed thousands of little yellow plastic elephant moneyboxes with Kashin's name printed on the side.
Burma (named after her birth place) was born in 1982. She arrived at Auckland Zoo in 1990, according to the zoo, "to be a long-awaited companion for lonely elephant Kashin". Kashin and Burma became close companions.
On August 24, 2009, 40-year-old Kashin was euthanised because of crippling arthritis and abscesses. After her death, the zoo announced its concern for Burma in her solitude after 19 years with a companion elephant, acknowledging that "female elephants are highly social creatures and Burma needs to be part of a group. Burma is 29 years old and could live for another 40 years. Her welfare requires that she have companions".
In 2010, the zoo approached the Auckland Council with a plan to establish a breeding herd. It won support to import two young companion elephants for Burma and to establish a breeding herd with a loan of $3.2 million.
There was intense opposition from international-based animal welfare organisations (including the SPCA, Safe and WSPA). There was a call for Burma to be retired overseas and a plea for New Zealand to end the containment of elephants in zoos.
At the time, the Royal New Zealand SPCA president Bob Kerridge said: "The evidence is clear that elephants are happiest in the wild. All the pictures you see of elephants in the wild, they're there together, roaming, big herds containing families of elephants.
"Internationally the trend is to take elephants out of zoos and put them into their natural environment. I hope that one day there will be no elephants at Auckland Zoo."
Regular council updates from Regional Facilities Auckland report that finding and securing young elephants from overseas is taking longer than the 12 months at first expected.
In March 2011, Auckland Zoo was concerned enough about the effect of Burma's solitude to trial a companion animal of another species. A zoo spokesperson said: "Burma is continuing to cope extremely well, but elephants are highly social and intelligent animals, and shouldn't spend long periods of time on their own."
The zoo decided to introduce a horse to Burma's enclosure in the hope it might provide animal companionship. The zoo was hopeful: "Given the similarity in social structure of the two species, we've worked alongside equine experts to select Cherry, an 11-year-old mare.
"We believe she has the right temperament to provide a great match for Burma."
Unfortunately, two months later the trial was aborted. The zoo issued a brief statement saying: "The bond and the relationship that was hoped for didn't really progress between Burma and Cherry, so we have decided not to continue having Cherry here at the zoo".
At the outset of the horse trial, the zoo was expecting Burma would have a companion elephant within the year. That was more than two years ago and still there is no pachyderm companion in sight. The zoo website describes the care the elephant keepers are taking to keep Burma stimulated and exercised with an international expert monitoring her condition. But the zoo itself says that elephants need other elephants.
Elephants are social animals who spend their lives in and around families of closely related individuals, moving across vast areas. Nowhere in the world would it be considered best practice to keep a solitary elephant. Let's end this animal's solitude. All the New Zealand animal welfare organisations are of one mind. They believe that Burma's needs would be better served by retiring her to a sanctuary overseas. I do too.
Dr Cathy Casey is an Auckland councillor, an ambassador of the SPCA and a member of Safe.