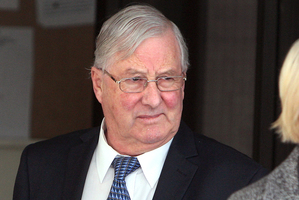 A pensioner facing trial over the murder of a service station worker 33 years ago told his former flatmate he had killed a man.
Warwick Nunns gave evidence at the High Court at Rotorua this afternoon, where his former flatmate Menzies Hallett is on trial for the murder of service station worker Rodney Tahu at Turangi in August 1979.
The Crown alleges Hallett, 72, shot at Mr Tahu three times, missing him once, then hitting him twice, once in the shoulder and then in the head.
It has been admitted Hallett caused Mr Tahu's death, but the pensioner has pleaded not guilty to murder, and his lawyer has told jurors they will have to decide between murder and manslaughter.

Hallett was charged at the time with Mr Tahu's murder, but the case was not strong enough, largely because his then wife Susan Sharpe could not give evidence against her husband in a criminal trial, unless she had his permission.
The case was re-opened and new charges were laid against Hallett after changes to the Evidence Act over-turned this.
Mr Nunns told the court he flatted with Hallett in the mid 1980s and told him one night he had been "been responsible for the death of a man".
"He said it had occurred at a service station and that he had ended up shooting a guy," Mr Nunns told the court.
"My only query to him was... Why was he still a free man.
"He told me that the rules of evidence didn't apply at the time and a case couldn't be brought against him for lack of evidence."
Hallett's former girlfriend, Beverley Emmerson, also told the court Hallett once told him "he had been involved in this murder and had shot someone".
The trial continues.
- APNZ