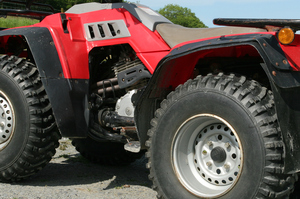 More than a third of farm fatalities involve quad bikes, and the number of injuries from quad bikes is increasing at an "alarming'' rate, according to a study by Waikato Hospital's trauma centre.
The study, which looked at patients admitted to Waikato Hospital between February 2007 and March 2011, found the underlying instability of the vehicles was the main factor in accidents, leading to the vehicle rolling in 39 per cent of accidents and serious head injuries in 24 per cent.
Just 45 per cent of patients recorded using helmets, despite the head being the single most injured part of the body among patients (29 per cent).
The study, which coincides with a string of inquests by Northland coroner Brandt Shortland into a spate of quad bike-related deaths in recent years, found that children under 16 were at a greater risk of injury or death due to their size and lack of strength or co-ordination. This was particularly evident when operating an adult quad bike, which could weigh more than 225kg and reach speeds in excess of 110km/h.
Researchers analysed demographics, location, mechanism of accident, helmet use, length of stay in hospital, injury severity and type of injury.
The majority of quad bike injuries occurred within a rural setting, with 57 per cent on farms. The age of patients ranged from 4 to 82.
The study was published in the Royal Australasian College of Surgeons' journal the ANZ Journal of Surgery.
Waikato Hospital trauma surgeon and study co-author Grant Christey said enforcement of regulations, coupled with focused safety education, could possibly reduce the "shocking'' toll of death and injury, and help relieve an increasing burden on New Zealand's health services.
`We should be ensuring that strategies for engaging our rural communities in education programs and safety campaigns are effective in reducing the burden of injury from ATVs [All Terrain Vehicles],'' Dr Christey said.
"ATVs are extremely useful in the rural sector. Highlighting the dangers of incorrect ATV use and making farmers more aware of their own safety could lead to people modifying their attitudes and behaviour.''
- APNZ