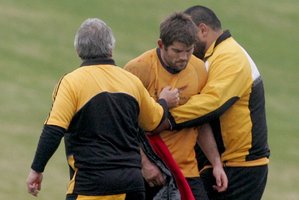 A former Bay of Plenty Steamers player who was knocked unconscious after being king-hit during a match last year has been sent off for allegedly punching another player in the head.
Simon Chisholm suffered a brain injury and has been unable to play rugby for months after being knocked out by Te Puna player Uenuku Pieta during a game at Maramatanga Park on July 21.
Pieta, a farmhand, pleaded guilty to assault with intent to injure and was sentenced last month [March] to 200 hours' community work and ordered to pay $500 reparation. He was also banned from playing for 12 months.
Following Pieta's sentencing, Chisholm labelled the Te Puna player a "coward" and told the Bay of Plenty Times he was still suffering the effects of the punch.
"That fella's taken rugby away from me. I get headaches every day because of him," he said at the time.
"There are people out there that think doing this kind of thing is acceptable. People don't realise their actions and what they can do to people."
But in an ironic twist, Chisholm was red-carded on Saturday at Tauranga Domain for allegedly punching another player during a match between his Te Puke Sports team and Tauranga Sports.
Tauranga demolished the defending champions 39-15. But the Bay Times reported that the match would not be remembered for its dazzling tries, but instead for Chisholm's sending off after he allegedly landed a left hook to the Tauranga player's head.
The punch was the last incident in a bizarre final 30 minutes of the game for Chisholm. He was reportedly involved in several incidents which the referee and his assistants did not see as clearly as the good-sized crowd in the grandstand.
Chisholm had just returned to playing after nearly a year on the sideline after being knocked senseless by Pieta's sickening king-hit.
Saturday's referee, Richard Jensen, confirmed to Fairfax Media that Chisholm was sent off for punching an opponent in the face.
Tauranga Sports president Trevor Grainger said the player who was allegedly punched by Chisholm was alright but the incident was "ironic" given the court action that followed the Pieta assault in July.
The Te Puke players appeared highly frustrated by the way Tauranga were allowed to slow down their ball at ruck time.
However, Coach Craig Jeffries admitted his team was beaten fair and square.
"Obviously that performance was a big disappointment," Jeffries said.
"We were taught a lesson in urgency and a lesson at the breakdown, and I'm disgusted at our fitness."
Chisholm is expected to be called before the Bay of Plenty Rugby Union judiciary committee this week.
For more articles from this region, go to Bay of Plenty Times