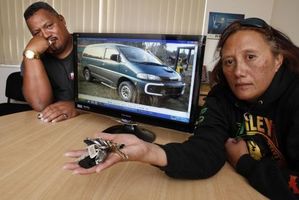 A deaf couple are appealing to the public for help after the family's van was stolen from outside their home.
Mita Moses and Kathy Strongman want their vehicle back so they can carry on providing a normal life for their family of four children.
If anyone sees their green and grey Mitsubishi Delica, they are asked to let the police, the Northern Advocate or Deaf Aotearoa know.
The couple say they do not want a replacement van, they want the Mitsubishi Delica back that they have owned for six years.
The vehicle was not insured.
They are shocked that it was stolen from where it was parked under a street light outside their Onerahi home late on Thursday night. Ms Strongman, who was at home while Mr Moses worked, was unable to hear someone breaking into the locked vehicle or it being driven off.
The couple, whose deafness limits their own access to many things other people take for granted, ensure their children - one of whom is also deaf - get to enjoy the experiences available in the hearing world. They have overcome many of the problems caused by being profoundly deaf, but their van is vital for them to take the children to sports, holiday activities, school and other appointments.
Mr Moses said the access to the mainstream community that the van provided gave the family comfort and security.
"We use it every single day. We have a busy life, the van is for our kids," Mr Moses said through a sign language interpreter. "This has hurt our family."
With a white ladder and an ANA sign at the back, yellow foglights in front, and a 5-speed manual gear shift, unlike more common automatic versions, the van is quite distinctive.
Ms Strongman had dropped him off at his job at Kensington Tavern at 8.30pm but when he texted her at 1am to ask her to pick him up, she discovered the van was missing.
Unable to use her phone to text Mr Moses because the battery was flat, and in shock, Ms Strongman drove his small truck to pick him up.
Mr Moses said she was upset when she arrived. They went straight to the police but did not call for an interpreter to help because of the time.
"I tried to communicate with the police the best I could," Mr Moses said. "I was also trying to deal with Kathy's anxiety. I didn't really know if I was getting across to the police what had happened."
He said the police personnel had been supportive but he and his wife felt very isolated during the ordeal.
Deaf Aotearoa service co-ordinator in Whangarei, Glennis Walkinshaw, said the theft highlighted the difficulties the deaf community faced and the couple's inability to communicate with police had added to their stress.
She said Mr Moses, who is a qualified sign language tutor, and Ms Strongman were always the first to put up their hand to help others in the deaf community.
For more articles from this region, go to Northern Advocate