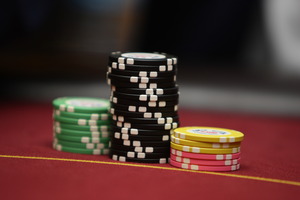 One of the players in a P-ring that used Auckland's SkyCity casino as an office has lost $200,000 after running from his lawyer's office and breaching bail.
Di Wu had been arguing that the $200,000 belonged to his mother, and losing the bail bond cash would cause her significant hardship.
However, in phone conversations intercepted by police, Wu was heard discussing what documentation was needed to show the money belonged to his mother.
Justice Timothy Brewer said he found "... it would now be open for the Court to conclude that the money came from Mr Wu, or some other person with whom he is closely associated".
Wu has withdrawn the application on behalf of his mother, and the money will go to the Crown.
The court has previously heard how Wu went on the run shortly before his High Court trial in 2010.
He was later found guilty on three methamphetamine supply and conspiracy charges by a majority verdict of 10-1 in the High Court at Auckland.
The jury was unable to return a verdict on a fourth charge of possession for supply.
Before trial, Wu signed bail bonds totalling $200,000 to guarantee he would return to court to face trial.
In January 2007 he put up $50,000 as a bail bond but breached bail twice the following year and went back to jail.
Wu then put up another $150,000 as a second bond and was again given bail.
Police visited his Beach Rd apartment in the Scene One building in downtown Auckland in February 2009 to check on Wu, but when they knocked on the door they got no answer.
Wu was arrested again and this time was remanded in custody.
However four months before his trial was due to start, Wu was granted leave by the court to go to the Auckland offices of his lawyer Ron Mansfield to help prepare legal arguments.
It was during one of these meetings that Wu ran from the lawyer's office. He was on the run for four months before being recaptured by police.
Wu, known as Elvis, is currently serving a prison sentence of 12 years and six months with a minimum non-parole period of half that.
His conviction came after the fourth trial arising from the police's year-long Operation Manu, which investigated Asian organised crime running a multimillion-dollar P ring from the casino's VIP lounge.
The key figure in the gang, Ri Tong Zhou, 41, was jailed for 15 years after admitting more than 30 methamphetamine-related charges including the supply of more than $3 million worth of P in just two months.
Zhou spent more than $8m at the casino to launder the money.
In sentencing Zhou, Justice Rhys Harrison criticised SkyCity for the way it had been used by the drug dealers. Zhou had used the VIP lounge as a hub for discussing the buying and selling of methamphetamine.
- APNZ