Filler words such as 'so' and 'well' provide us with thinking time but grate on some people's ears.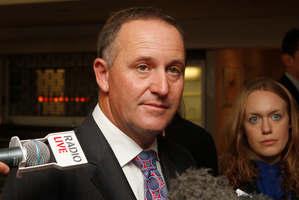 Kiwis from the Prime Minister down are using words such as "so", "like" and "well" in the wrong context as "fillers", says a language enthusiast.
These words and others - including "yeah-no", "now" and "look" - have become commonplace at the beginning of sentences, says Alex Findlay.
The 58-year-old Bombay company director, who has a particular problem with "so", said there was no reason for the default word, which sprang up about a year ago.
"It really started to annoy me and I don't know where it came from," Mr Findlay said.
"Out of the blue, people will be asked a question and they will start the answer with 'so' and it will be completely unrelated and unnecessary.
"Once you notice it, it's like Chinese water torture, you keep on noticing it.
"I was talking to a teacher the other day and asked her a question and she had a think and started off with 'so'."
Mr Findlay said "so" was becoming the new "like", a common filler word used by younger generations.
In an interview the Herald conducted with the Prime Minister in February, John Key began the answers to five out of eight questions with the word "well".
Former TVNZ Close Up host Mark Sainsbury had a penchant for starting his sentences with the word "now".
Victoria University professor of linguistics Janet Holmes said the words, known as discourse particles, were often used at the beginning of sentences to buy the speaker time to think about what they wanted to say, alongside other functions.
"Words like 'so' and 'like' and 'well' often provide verbal planning time," Professor Holmes said.
"It's the same with 'you know' in the middle of sentences.
"Obviously it has the interactional function of asking the other person to confirm or agree, or indicate they are following, but as well it gives you verbal planning time so it gives you time to think what you are going to say next."
The words could be multi-functional, Professor Holmes said.
"Very often they're enlisting agreement, a head nod from the other person or some indication that we have shared experience."
Professor Holmes said it was not clear how words such as "so" ended up as sentence starters, but the media played a role.
"Maybe somebody on the television uses it and it gets picked up so it's very hard to track. Radio and TV interviewers are influential, there's no doubt about that.
"But whether in fact they get picked up and maintained for very long is the issue."
Professor Holmes said the use of particular discourse particles as sentence starters was often transitory.
"Some tend to be very fleeting. They come and go quite fast."
She had personally noticed sentences starting with "now" and "so" as well as the contradictory phrase "yeah-no", a common initial response to questions.
While she had not researched the phenomenon, colleague Paul Warren had written an article on the "yeah-nah" trend.
In it, he said the common response to questions was not a distinctive Kiwi trait, but had been documented in Australian English as long ago as 1998.