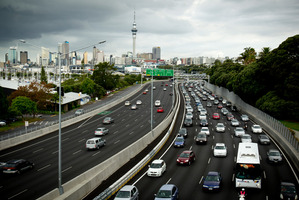 Aucklanders face heftier transport costs under either funding option put forward by an advisory group to Mayor Len Brown, but road charges are picked to provide better payback.
Levying drivers to use existing roads through motorway tolls, or charging them to pass through cordons on other congested arterial routes, could cost the average household between 80c and $1.10 a day, for travel-time savings of about 95c.
That compares with a return of just 50c from an average extra daily cost of 70c to 75c if more fuel taxes are raised on top of "significant" rates rises, according to a discussion paper which the mayoral panel is publishing today for public comment.
The 17-member mayoral group - on which business and union leaders have joined transport campaigners and the Automobile Association - is trying to build a consensus among Aucklanders while asking them which option they would "prefer" before it makes a final recommendation to city councillors in July.
Mr Brown is not saying whether he will call a referendum on the issue, which centre-right councillor Cameron Brewer insisted yesterday should be held during the local body elections in October.
The mayoral "consensus-building" group, chaired by former Ministry of Transport and airline industry chief Stewart Milne, has spent six months considering more than 20 new ways of plugging a $12 billion transport funding gap.
That means $400 million of extra funds for each of the 30 years from 2016 to supplement the traditional sources of rates and fuel taxes to meet a $68 billion transport bill.
Although that is higher than $59 billion forecast by the Auckland Plan - for projects such as a $5 billion Waitemata Harbour transport crossing and a $2.4 billion-plus underground railway past Britomart - the mayoral group believes even more investment is needed for the Super City to stave off "excessive, disruptive and costly" traffic congestion.
Even then, city streets will still become more clogged than now.
"Given the divergence of interests there were a few things we had to work through and it's a pretty bleak picture, but what I think we came down to was just what was the least bleak," says Donna Wynd of the Child Poverty Action Group.
"What is driving this is the pace of our population growth."
Among options considered by the mayoral group, but rejected for reasons such as not offering enough extra cash or presenting "significant issues of fairness" were extra parking levies, a regional sales tax, a visitor-bed levy and a lottery.
Mrs Wynd disclosed that even a poll tax on individuals was suggested by one group member before being "quickly put to one side".
First Union secretary Robert Reid, representing unions on the mayoral group, said the Government's refusal to join the panel had made the exercise more difficult and turned it into a case of "what Aucklanders can do by themselves to get the changes and transport project which the Auckland Plan calls for".
But the Government would sooner or later "have to come to the party".
Two roads
Recommendations for raising $400 million more a year on top of extra Government funding and limited public transport fare rises.
Option 1
* Rates rises: $90m
* Fuel tax rises (including a possible regional levy): $250m
* Tolls on new roads: $60m
* Average extra daily transport cost per household: 70c to 75c
* Daily travel time saving per household: 50c
Option 2
* Road tolls and charges (existing roads)*: $250m
* Extra revenue rates and fuel tax rises, and tolls on new roads: $150m.
* Average extra daily transport cost per household: 80c-110c
* Daily travel time saving per household: 95c.
* Motorway tolls or charges to pass through cordons on existing arterial routes).
On the web