Mother of two had been looking forward to her daughter's 13th birthday party.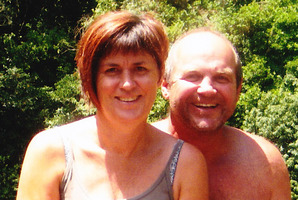 A Morrinsville nurse who was crushed by a car as she jogged along a residential street had been planning a party for her daughter's 13th birthday this week.
Joanna Mellow, a 42-year-old wife and mother of two, died after she was pinned against a house on Seales Rd by an out-of-control 4WD about 2pm on Saturday.
Yesterday, devastated family and friends gathered at her home in Morrinsville to remember an "amazing" person.
Best friend Julie Wright said Mrs Mellow had been planning her daughter Monique's birthday party this week together with her other daughter, Danielle, 11.
Mrs Mellow's husband, Shane, her father, Maurice Steffert - a Matamata-Piako district councillor - and her brother Warren were too upset to speak to the Herald.
But Mrs Wright described Mrs Mellow as "the most amazing friend".
"I feel absolutely blessed to have been her friend. Very privileged.She was just a fun person. Very social. Always a laugh."
Mrs Wright said her friend enjoyed running and "did what she loved".
She said the family were holding up as well as could be expected.
Matamata-Piako Mayor Hugh Vercoe, who was with the family yesterday, said they were struggling to come to terms with the tragedy.
"They're devastated. It's terribly, terribly sad."
Mr Vercoe described Mrs Mellow as a "wonderful, caring person" who had grown up in Morrinsville.
"I've known her all her life. She is a highly respected young lady of Morrinsville."
A neighbour of the house where the crash happened, Shane Gibbons, said his property had been hit three times in recent years and he had complained to police about speeding motorists.
"We've said not before long someone's going to get killed here and we couldn't believe it that that happened.
"You get a lot of people walking and jogging past here," Mr Gibbons said. "We've been clobbered three times. My wife's been T-boned when she tried to drive into our driveway one day."
Before that a car hit a power pole outside their house while another driver slammed into the fence. Mr Gibbons called it "a race track".
However Mayor Vercoe said the 50km/h road carried a substantial volume of traffic but was not a dangerous street.
He disagreed there was a speeding problem on the road, which is used as a bypass to the town centre.
"It appears it was one of those freak accidents. The road itself is not a hooning area."
Police said it was too early to know what caused the accident or if charges would be laid against the driver of the 4WD.
Waikato road policing manager Inspector Marcus Lynam said speed and alcohol did not appear to be contributing factors in the weekend crash.
"An elderly gentlemen was driving the vehicle and we need to determine what caused him to lose control of the vehicle. It's very tragic circumstances."
The driver and passenger escaped injury as did a woman at the house, which was extensively damaged in the accident.