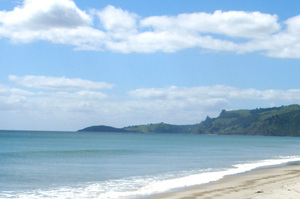 A push is being made for Cape Kidnappers beach warning signs to be done in several languages in an attempt to avoid a repeat of a Friday night rescue from a beach isolated by the rising tide.
The drama unfolded after two Japanese tourists arrived at the Clifton Motor Camp late in the afternoon seeking help for an injured friend.
With shoreline access cut by the high tide, Police called-in the Hawke's Bay Coastguard which retrieved the injured person who also became seasick while riding out the wait for three others to also be rescued.
Ultimately it was decided to put two Coastguard crew ashore with supplies and warm gear to stay with the trio until they could be reached along the shore by a police vehicle about 9.30pm.
Camp manager Bob Pollock, a long-time resident of the area said it was the third incident in his year in the job where visitors had been stranded by the rising tide.
In two of the incidents, people had ignored warnings about timing their beach treks to allow for the tides.
The latest incident highlighted the need for advisory signs to be "in more languages than just English," he said. Mr Pollock is planning to approach The Department of Conservation about getting the signs made. "There are signs there already but it might be good to get more of them closer to the cape."
He said most people got stuck on their way back around the cape towards the end of the day.
"People do need to understand there are risks. It's a risk if you get trapped and can't get up the cliffs." Mr Pollock often advises passers-by of when the best times to walk the cape are but said it is up to them whether they take his advice or not. "The one thing I say to everyone is to make sure when the tractors leave you leave." The tractors take guided tour groups around the cape.
Friday's rescue also highlighted the importance of the camp, the future of which is being threatened by beach erosion.
For more articles from this region, go to Hawkes Bay Today