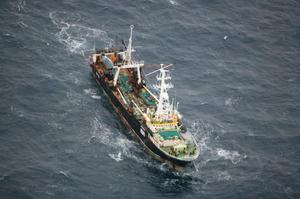 The search for diesel spilled from a fishing vessel which struck rocks off Stewart Island has been called off.
Environment Southland has ended its oil spill response after checks found no sign of diesel in the area where the Sureste 700 struck rocks on Friday night.
The Sureste 700 was sheltering off the area known as The Neck in Paterson Inlet when it struck rocks and ruptured a fuel tank about 10.50pm.
Regional On-Scene Commander Dallas Bradley said a tourist operator acting on behalf of Environment Southland had visited The Neck late yesterday and found no trace or smell of diesel.
The boat's charterer, South East Resources, reported the crew had transferred an estimated 18,000 to 20,000 litres of diesel from the ruptured tank into another tank on board last night.
This meant that any diesel that spilled was much less than the 23,000 litres in the tank when the vessel hit the rock.
Mr Bradley said the comparatively small loss of diesel could be due to the size and location of the hole, but that would only be confirmed once the vessel had been inspected.
The Sureste 700, a 58m long fishing vessel, was now heading for its home port of Timaru under its own power and was out of Southland waters.
Mr Bradley thanked the Stewart Island community for assistance given during the oil spill response on Saturday.
He had been working closely with several charter operators as well as the Department of Conservation, and also keeping the Rakiura Maori Land Trust informed of developments.
- APNZ