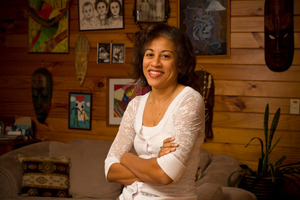 New Zealanders are more polite about their racism than people in other parts of the world, says university lecturer Camille Nakhid.
Kiwis will bite their tongues until someone else says something racist first, then our vitriol will pour out through letters to the editor or pages of posts on social media. Just think back to Paul Henry's comments about the last Governor-General, Sir Anand Satyanand.
Nakhid, born in Trinidad and Tobago, says she grew up in a "privileged" community, shielded from racism.
When verbal slurs were hurled at her when she arrived in the United States, where she studied at a Jewish university in New York, she thought it was isolated to a few stupid people. "My African-American friends were saying it was racist but it never occurred to me, I just saw it as a sign of those people's ignorance."
It was only later that she realised that racismand ignorance were one and the same - but that racism was a way to wield power over other people.
In New Zealand, to which she moved more than 20 years ago with her Samoan husband, racism is less overt. "They do it in such a way that you couldn't say it's racist; it's much harder to expose."
When she was buying tickets to a rugby match, the salesperson wouldn't hand over the tickets until her credit card payment had cleared. Other buyers had tickets in hand before they even handed over the cards.
She is often stopped at airports, although she says her dreadlocks may have contributed to that for a few years, and sometimes wonders if she has lost out on work opportunities because of her skin colour. But she says it is getting better. The younger generations are already more enlightened and accepting than their predecessors. It's an ongoing process.