Daughter mourns the 'sweetest lady'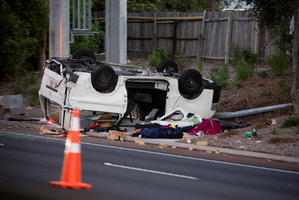 A woman who died in a car crash which brought motorway traffic to a standstill during rush hour has been remembered as the "sweetest lady" by her daughter.
Lalita Prasad, 48, died when the van she was a passenger in hit a pole and overturned on the Southern Motorway, about 4.30pm on Friday.
Motorists were stuck in gridlock as police serious crash investigators closed the motorway for four hours.
Lalita's husband Narendra and their son Shavnil, 20, were rushed to Middlemore Hospital. Narendra was discharged yesterday, but Shavnil was still in hospital last night.
The couple have four children - Shavnil and his three sisters. They moved to New Zealand 12 years ago from Labasa, in northern Fiji, and started their family business, the Kihikihi Dairy in Lyon St. They had also owned a dairy in Fiji.
Their daughter Shalvina Prasad, 26, stayed to run the shop on Friday, as her mum, dad and brother set out for a family wedding yesterday.
Shalvina, who went to Lynfield College in Auckland, said she got a call from her father.
"I don't know how he managed to call but we all rushed up to Middlemore Hospital to see my brother who is still in hospital. We came home in the middle of the night.
"My brother was really close to my mum and is devastated like all of us.
"She was the sweetest lady.
"All our customers have been coming in to pay their condolences. We are all in shock. "
Recent crashes in Auckland have caused huge delays for motorists.
Sergeant Adrian Kerin, who was one of the first investigators to arrive at Friday's crash, said it was a "terrible and tragic accident".
- APNZ