Man who drowned on holiday outing was leading girl, 6, by the hand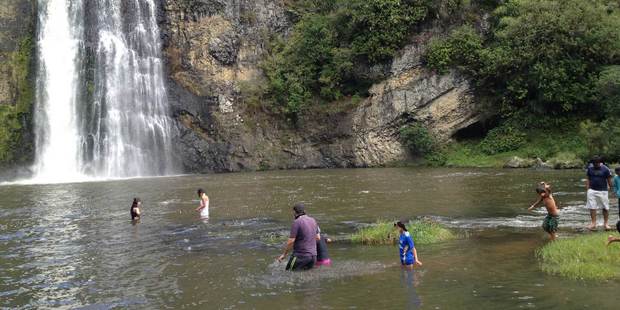 Seconds after this picture, Daksh Modasia (in striped purple shirt) stepped into deep water and drowned. Photo / Supplied
A young girl was plucked from certain death as Indian student Daksh Modasia waded into a deadly hole at Hunua Falls and drowned.
The Herald on Sunday can reveal that the Anzac Day drowning was close to claiming a second life.
A 6-year-old girl was pulled down into water over her head as she waded hand-in-hand with Modasia, after he stumbled off a shelf in the riverbed.
Family and friends who witnessed the tragedy at the popular South Auckland reserve were yesterday making arrangements for a private ceremony at an Auckland funeral home today. The 20-year-old's body will then be flown back to grieving family in India.
A family spokesman said the sudden death of the likeable boarder had shaken the entire household.
He said the tall young man - a computer student at a West Auckland training course - was delighted to learn the families would be travelling to one of South Auckland's popular picnic spots and asked to join them on the outing.
The group were visiting the Hunua Falls for the first time.
After paddling in the shallows and posing for photos, Modasia waded in thigh-high water with two of the children across to the falls walking track.
The family spokesman said he heard his 10-year-old son's desperate cries for help and knew something was wrong.
"I heard my boy screaming 'Help brother Daksh, help brother Daksh'."
The spokesperson said he turned to see his friend flailing in the water and the little girl disappearing from view. "He was holding the landlady's daughter.
"He couldn't feel any land beneath his feet and lost his balance.
"He fell in front first and started struggling. She got pulled down too."
A member of the public managed to pluck the young girl to safety and took her to shore where she was tended to after swallowing water during the ordeal.
But saving the overseas student, who weighed over 100kg, proved too difficult, said the spokesman.
Several distressed people were linked together to haul his body from the river, while emergency services were summoned.
The family spokesman said frantic efforts were made to administer CPR in the hope of saving the "kind-hearted" flatmate but he had died by the time the Westpac Rescue Helicopter arrived.
"They said he had too much water in his lungs," said the spokesman.
Modasia could not swim but the spokesman said the entire group had heeded warning signs at the waterhole and were aware of the dangers.
Yesterday, victim support services were at the Mt Roskill family home to check on the family members caught up in the holiday tragedy.
The spokesman paid tribute to his friend saying Modasia was a kind, loving man and devoted to his parents.
"He would talk to his father on Skype every day."
He enjoyed playing sport and had a high degree of computer skills.