Sentencing delayed after alarm bells ring over woman's forged documents conviction.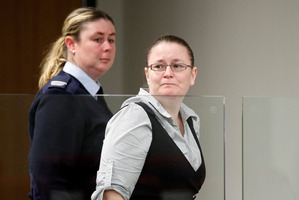 A childcare worker convicted of fraud has dyslexia.
Sentencing has been deferred for Tracy Gwendoline Hibberd, who has been in jail since a jury convicted her last month of forging her qualifications from New Zealand Tertiary College, after questions emerged over the way her case was handled.
• Was Hibberd's dyslexia relevant to the case?
• Did other people have her security code to give them access the work photocopier used in the fraud?
• Did police handle their investigation and prosecution correctly?
Hibberd was to have been sentenced in the Auckland District Court this week, but her lawyer Paul Heaslip withdrew from the case and the Public Defender's Service was appointed to replace him. However, high profile defence lawyer Lorraine Smith, best known for successfully defending Chris Kahui on charges he killed his twin baby boys, told the Herald on Sunday she would take over for the sentencing and likely appeal.
Heaslip said it was not appropriate to discuss his reason for withdrawing.
On Wednesday Judge Roy Wade remanded Hibberd, 35, in custody until a new sentencing date on May 16.
Wearing a grey dress, Hibberd appeared teary as she turned briefly to wave at family and supporters before being led away.
She continues to deny the fraud. Her defence claimed her operations manager, Greg Shaw, created the documents and mailed them to her to protect funding for the Clevedon Kidz Get Set 4 School Childcare Centre. In court, Shaw denied the accusation.
Hibberd, who'd failed her final paper three times, claimed to have believed the documents were real.
Her defence stated that when she realised there was a problem she told a tertiary college staffer she felt like someone was playing a "nasty joke" on her and she was scared of losing her job.
The Herald on Sunday has learned Hibberd has dyslexia. Court documents show the court was aware of this, although it did not form part of her defence.
Speld, an organisation covering several learning disabilities including dyslexia, tested Hibberd in 2011 and concluded her basic writing skills were "very limited".
Yet the forged documents were good enough to fool the Teacher's Council, which granted her provisional registration, and TV3 journalist John Campbell who told viewers in May 2011 the diploma looked "legit".
Last week, police started a review of their handling of the case.
Paul Sharples, the constable who investigated the forgery, allowed tertiary college boss Selena Fox - a witness in the case - to see her staff member's witness statements.
Auckland police district commander Mike Clement said a thorough inspection of the entire investigation and prosecution process was being done.