Nurse says she has used all her savings while house is being decontaminated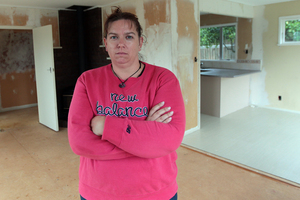 A nurse says a stalled renovation of her meth-contaminated property has put her family through hell.
Joanne Harford's Papakura house is empty and gutted after testing revealed P was cooked in it. Harford said contractors were supposed to have the house ready for new tenants a month ago and she is losing nearly $500 a week.
She is one of thousands facing the issue. From January to September, police dismantled a P-lab on average once every 45 hours.
"People think landlords are rich," Harford said. "We're just normal people trying to get ahead."
Harford said insurance would cover lost rent for up to 12 weeks, and some other expenses, but she was going broke. "I've used all my savings."
Harford said State Insurance, an IAG subsidiary, appointed AskMetro to do the decontamination. After the Herald on Sunday made inquiries this week, AskMetro told Harford it would start work on Monday and have the job done in 15 days. An IAG spokeswoman said the insurer would get the claim moving.
"Reinstatement after incidents such as this can be complex, but we apologise for any extra stress caused by communication between parties," she said.
When Harford noticed tenants acting suspiciously last year, she had MethSolutions conduct an initial test and found traces of meth. A second test by Enviro Scientific Group confirmed P was cooked in the kitchen and chemical traces were well above government guidelines. Harford then had the house decontaminated and freed of meth traces. Finally, insurers and loss adjusters worked with renovators to make the house liveable again.
MethSolutions director Miles Stratford said Harford did the right thing to protect the health of future tenants. He said Harford had landlord insurance but other victims of P-cooking tenants could be at risk. Some insurers were switching house insurance plans to "sum insured" policies after taking a hit from the Canterbury earthquake.
Stratford also warned estate agents needed to keep home buyers fully informed. "The people most exposed are those in that first-home buyer market who are buying ex-rentals."
The Real Estate Institute said unregulated property managers were a problem. REINZ chief executive Helen O'Sullivan said the institute often had sessions on P contamination risks and advised agents to use portable test kits.
O'Sullivan also said landlords should inspect homes often. "It doesn't take much more than four to six weeks for P cooks to make a mess of the place."
On Tuesday, a suspected meth lab exploded at a house in upmarket Mt Maunganui. This month, the Herald on Sunday revealed a stolen BMW in Auckland was used as portable P-lab. And in December, forensic consultant Todd Sheppard told a packed auction for a Waikato house that it had tested positive for P and the sale was cancelled.
MethSolutions said about one-third of meth users would attempt to cook P themselves.